Last year is receding in the rear view mirror, but before looking forward to the battles of 2014, let us take a moment to savor what was, overall, a pretty big year for drug reform on the domestic front. Unsurprisingly, marijuana makes up a lot of the news, but there were also signs that America's decades-long incarceration fever is breaking, and even though the impulse to scapegoat the downtrodden through public benefits drug testing remains strong, it doesn't really seem to be picking up much traction, and the year ended with suspicionless public benefits drug testing slapped down by a federal judge. Here are the highlights of 2013: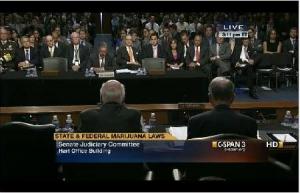 #1 The Obama Administration Doesn't Try to Block State Marijuana Legalization
While the truly historic moments in US marijuana legalization -- the November 2012 election victories in Colorado and Washington and the commencement of legal marijuana sales in Colorado on Wednesday -- neatly bracketed 2013, history was being made by the Obama administration as well. The first presidency to deal with states voting to legalize marijuana for adults in direct contravention of federal law did so in a remarkably reasonable fashion: by largely getting out of the way. In August, Deputy Attorney General James Cole issued a three-page memorandum affirming that the US Justice Department would allow the two states to move forward with statewide efforts to license and regulate the adult marijuana market. Cole later reaffirmed the agency's position in testimony before the US Senate, stating, "We will not … seek to preempt state ballot initiatives."
#2 State Officials Don't Try to Block Marijuana Legalization Where Voters Approved It
Kudos are also due to legislators, elected officials, and functionaries in Colorado and Washington, who accepted the voters' choice to legalize marijuana with apparent good faith. The Washington state Liquor Control Board and Colorado legislators both came up with workable ways of implementing the will of the voters, while being careful to also heed the concerns of those worried about problems legalization could bring with it. Colorado's system rolled out this week and Washington's will come in a matter of months.
#3 Public Support for Marijuana Legalization in the US Reaches All-Time Highs
If 2012 was the year public opinion in favor of marijuana legalization reaching the tipping point, 2013 was the year it went over it. An October Gallup Poll had support for legalization a record-breaking 58% nationwide. That was in line with a number of other polls since the 2012 elections that showed support either above or just below 50%, depending on the pollster. The on-going sea change in public opinion has also been apparent in polls showing majority support not just where it might be expected, like California, but also where it isn't, like Louisiana and Texas, both of which reported late year majorities for legalization.
#4 The Advance of Medical Marijuana Continues
Bills legalizing medical marijuana passed in Illinois and New Hampshire, bringing the number of states that allow it to 20, along with the District of Columbia. Dispensaries opened for the first time in New Jersey, Rhode Island, Vermont, and the District of Columbia. And bills that will allow dispensaries to open this year passed in Nevada and Oregon. About two dozen states saw medical marijuana legislation filed last year; expect a similar level of activity this year.
#5 The Number of State, But Not Federal, Prisoners in America Keeps On Declining
For the third year in a row, the number of people in prison in the US declined, the Justice Department's Bureau of Justice Statistics reported in July. (The figures are actually for year's end 2012, but the report came out in 2013, so here we are.). The figures do not include jail inmates. At the end of 2012, there were 1,571,013 prisoners in America, down 1.7% (or 27,770 inmates) from the previous year. Breaking down the numbers, that means that somewhere north of 330,000 people were serving time for drug crimes in US prisons at the end of last year, down from a record high of nearly half a million at the beginning of the century. The decline is because of shifts in sentencing policies in the states; the federal prison population kept expanding, although at a lower rate than over the past decade.
#6 Momentum for Sentencing Reform Grows in Washington
The clamor to do something about drug sentencing reverberated throughout the nation's capital in 2013. In August, Attorney General Holder announced an administration package of sentencing reforms, some of which could be enacted administratively, such as prosecutors not routinely resorting to mandatory minimum charging decisions, but others of which require congressional action. And while Congress didn't actually pass anything, it laid the groundwork for action next year. Senate Judiciary Chairman Sen. Patrick Leahy (D-VT), an increasingly loud critic of mandatory minimums, allied himself with Sen. Rand Paul (R-KY) to introduce the Justice Safety Valve Act of 2013, and similar legislation has been introduced in the House. In another sign of interest in sentencing reform, 10 members of the House Judiciary Committee formed an "over-criminalization" task force in May. The Senate Judiciary Committee held a hearing on mandatory minimum sentencing in September to whip up support for their legislation and other sentencing reform bills, and the committee held a mark-up session on the bills in December. The stage appears set for real movement this year.
#7 "Defelonization" Emerges as a Sentencing Policy Option for States
Although, over the years, 13 states and the District of Columbia have moved to reduce incarceration burdens by treating simple drug possession offenses as misdemeanors instead felonies -- defelonization -- the idea got renewed impetus in 2013, especially on the West Coast. In California, a bill that would have allowed prosecutors the option of charging felony possession cases passed the legislature, and in Washington state, legislators and activists announced late last year that they would try to move a similar bill there this year. Unfortunately, California Gov. Jerry Brown (D) vetoed the defelonization bill, but as a result of that veto, the San Francisco DA and the San Diego police chief have filed a defelonization initiative. While 2013 was a building year for defelonization efforts, they could well bear fruit this year.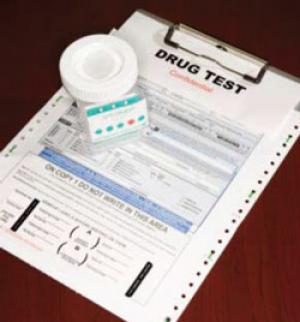 #8 A Tough Year for Public Benefits Drug Testing Bills
Legislation seeking to make public benefits beneficiaries pass drug tests continued to popular in Republican-dominated state legislatures in 2013, with bills introduced in at least 30 states, but by year's end, only a handful had actually passed, and all of those were "reasonable suspicion" bills instead of bills requiring mandatory, suspicionless drug testing. Drug testing bills passed in Kansas (welfare, unemployment), North Carolina (welfare, passed over the Republican governor's veto), Michigan (unemployment), and Texas (unemployment). But as the year went on, there was rising criticism of the cost of enforcing such legislation and the small number of actual drug users found in states that had previously passed similar bills, including Minnesota, Oklahoma, and Utah. And the last day of 2013 saw a federal judge throw out Florida's suspicionless welfare drug testing law as unconstitutional. The up side is that that ought to drive a stake through the heart of any more suspicionless drug testing bills; the down side is that legislators elsewhere have already figured that out, which is why all of the 2013 bills that passed were "reasonable suspicion" bills.
#9 Historic Firsts for Hemp
Not only were industrial hemp bills filed in both houses of Congress last year, but for the first time ever, the House passed a hemp production measure. The measure was an amendment to the farm bill, but unfortunately, the entire bill was defeated after Republicans attempted to attach drug testing provisions for food stamp recipients. A later version of the bill passed without the hemp amendment. Still, there is hope that the hemp amendment, which also had Republican support, will reemerge whenever the Senate and House meet in conference committee. Meanwhile, more states took up hemp legislation, with a bill passing Kentucky and another one passing in Colorado (as part of the implementation of Amendment 64). Hemp bills were also filed in California (approved in the state Senate), Missouri, New Jersey, and Vermont (as part of a broader legalization bill). And in November, a Colorado farmer oversaw the first hemp crop harvest since World War II., even though it remains illegal under federal law.
#10 Obama Exercises Clemency Power, Commutes Sentences of Clarence Aaron, Seven Others
Just before year's end, President Obama granted clemency to eight crack cocaine offenders, bringing an early Christmas present to poster boy for drug war sentencing excess Clarence Aaron and seven other crack cocaine offenders. Aaron has served more than 20 years for his peripheral role in a cocaine conspiracy, and the others were serving equally onerous sentences. The commutations were a departure for the Obama administration, which has been the stingiest in recent presidential history when it comes to the pardon power. Before the pre-Christmas commutations, Obama had issued only one commutation, where someone currently serving a sentence is actually released from prison, and 39 pardons of people who had already been released, some of them decades ago.