Support for marijuana legalization is at the highest levels ever, with 58% of Americans in favor, according to a Gallup poll released Tuesday. That's up an impressive eight points from 2011, when Gallup had 50% supporting legalization, and even more impressively, up 10 points from last year, when support had dipped to 48% in the annual poll.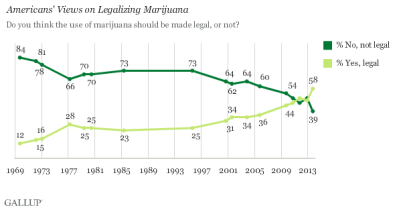 The poll results are generally in line with
other polls in the past couple of years
that have shown half or more of Americans are ready to free the weed. As Gallup's own annual polls suggest, after support for legalization stayed around one-quarter of the population in the 1980s and 1990s, momentum has picked up since the turn of the century. Then, only 31% supported legalization; now nearly double that number are ready for it.
Gallup pointed at movement toward support of legalization by independents, now at 62% and up a big 12 points since last year. Support also increased among Democrats, from 61% to 65%, while among Republicans, only 35% favored it, although that, too, was up over last year, by a couple of points.
The pollster also singled out strong support among younger Americans and rapidly increasing -- although still not majority -- support among senior citizens. Two-thirds (67%) of 18-to-29-year-olds said legalize it, as did 62% of 30-to-49-year-olds and 56% of 50-to-64-year-olds. Only 45% of seniors agreed, but that was up a whopping 14 points over 2012.
Gallup offered several explanations for the upswing, including the victories in Washington and Colorado last year, the Obama administration's relatively soft-shoe approach to the matter, and increasing social and cultural acceptance of the plant (a sizeable 38% admitted to having tried it), driven in part by medical marijuana.
"It has been a long path toward majority acceptance of marijuana over the past 44 years, but Americans' support for legalization accelerated as the new millennium began," Gallup said in summarizing the poll results. "This acceptance of a substance that most people might have considered forbidden in the late 1960s and 1970s may be attributed to changing social mores and growing social acceptance. The increasing prevalence of medical marijuana as a socially acceptable way to alleviate symptoms of diseases such as arthritis, and as a way to mitigate side effects of chemotherapy, may have also contributed to Americans' growing support."
It was all music to drug reformers' ears as they prepared to gather this week in Denver for the biennial International Drug Policy Reform Conference sponsored by the Drug Policy Alliance.
"The latest poll results point to the absurdity and even venality of persisting with harsh prohibitionist policies," said Ethan Nadelmann, the Alliance's executive director. "No other law is enforced so harshly and pervasively yet deemed unnecessary by so many Americans. Spending billions of dollars and arresting 750,000 people annually for violating marijuana laws now represents not just foolish public policy but also an inappropriate and indecent use of police powers to favor one side of a cultural and political debate."
"The American people have opened their eyes to the failure that is marijuana prohibition and there is no putting the genie back in the bottle. Following the successful passage of marijuana legalization initiatives in Colorado and Washington in 2012, the people of this country see that a new approach to marijuana policy is both required and possible," said NORML communications director Erik Altieri. "The majority of Americans agree that prohibition has failed and it is time to legalize and regulate. The issue can no longer be ignored or sidelined. Legalization is now the mainstream position and supporters of perpetuating our war on marijuana will continue to be further relegated to the fringe."
"The dramatically increasing support for making marijuana legal should come as no surprise," said Rob Kampia, executive director of the Marijuana Policy Project. "Marijuana prohibition has been an abject failure. Most Americans realize it is unjust, wasteful, and counterproductive to invest in the criminalization of adults for using a substance that is far less harmful than alcohol."
"The passage of adult-use marijuana initiatives in Colorado and Washington has demonstrated widespread disillusion with marijuana prohibition," noted Aaron Smith, executive director of the National Cannabis Industry Association. "The success of regulated medical and adult-use marijuana markets in 17 states and DC is replacing criminal enterprises with legal and responsible businesses that generate millions in tax revenue and tens of thousands of good jobs. It's no surprise that 58% of Americans now support bringing this regulated approach to all 50 states."
Both Kampia and Smith explicitly called on Congress to act to end federal pot prohibition, and Kampia said the poll "bodes well for efforts underway to change state laws around the nation." That may be an understatement. Let's check back in a on that a little bit more than a year from now.