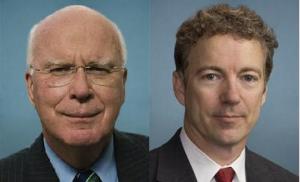 Senators Patrick Leahy (D-VT) and Rand Paul (R-KY) have introduced S. 619, the bipartisan "Justice Safety Valve Act of 2013," allowing judges to set aside mandatory minimum sentences when they deem appropriate. It expands on legislation passed in 1994 that allows judges to waive five- and ten-year sentences for certain drug crimes. (We advocated for the original safety valve, during our
first year as an organization
.) The Leahy-Paul bill does this for all federal crimes.
Leahy, who chairs the Judiciary Committee, has a press release. So does FAMM.
Phil will be doing a feature story on the bill tomorrow, but not in time for tomorrow morning's email editions, so be sure to check Drug War Chronicle this week. (If you don't get the Chronicle by email, you can sign up here.)
Looking for the easiest way to join the anti-drug war movement?
You've found it
!