A bill that would set up provisions for growing industrial hemp in the Golden State passed the state Senate Tuesday on a unanimous vote. It now heads to the state Assembly.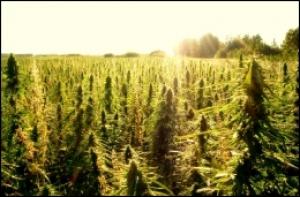 Hemp bills have passed out of the legislature in 2002, 2006, 2007, 2008, and 2011, only to fall prey to gubernatorial vetoes. Vetoes have come under both Democratic and Republican governors, with Gov. Jerry Brown vetoing the most recent bill because hemp production remains illegal under federal law.
The current bill, Senate Bill 566, was written to assuage the concerns Brown expressed in his 2011 veto message. It will not take effect until hemp production is authorized under federal law.
"The California Industrial Hemp Farming Act will create new jobs and economic opportunities for many farmers and manufacturers across California," said sponsor Sen. Mark Leno (D-San Francisco). "Hundreds of consumer products containing hemp are made in the Golden State, but the manufacturers of these goods are forced to import hemp seed, oil, and fiber from growers in Canada, Europe, and China. This new bill is carefully crafted to eliminate conflicts with federal law and has the support of the California State Sheriffs' Association."
"The prospects for SB 566 are very good. Unlike past industrial hemp bills, this session's version does not go into effect until it is authorized by federal law," said Patrick Goggin, California legal counsel for the industry group Vote Hemp. "We feel confident that California will finally have an industrial hemp law later this year ensuring that California farmers are ready and able to cultivate hemp upon federal approval."
Domestic retail sales of hemp food and body care products reached $156 million last year, and the Hemp Industries Association estimates that all hemp products sales, including clothing, auto parts, and building materials, totaled at least $500 million.
Companies that use hemp in their products, such as Escondido-based Dr. Bronner's Magic Soaps, currently have to import it because of the federal ban on hemp production.
"Dr. Bronner's currently purchases twenty tons of hemp oil each year from Canada. We look forward to the day that we can meet our supply needs from hemp produced right here in our home state," said company president David Bronner.
Now, Bronner and other hemp entrepreneurs are one step closer to that day.