It's a marijuana policy trifecta on Capitol Hill now: recreational marijuana, medical marijuana, and hemp. Earlier this month, reformist House members filed bills to end federal pot prohibition and tax the trade and last week to legalize hemp. Now, some of those same legislators -- joined by more -- have filed bills that would protect medical marijuana patients and providers and some senators have filed their companion bill to legalize industrial hemp.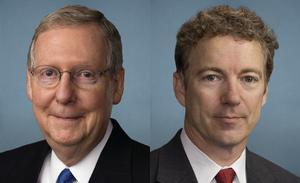 Phase II took place Thursday, when Rep. Earl Blumenauer (D-OR), sponsor of the above-mentioned marijuana tax bill, rolled out
House Resolution 689
, the States' Medical Marijuana Protection Act; Rep. Sam Farr (D-CA) introduced
House Resolution 710
, the Truth in Trials Act; and Sen. Ron Wyden (D-OR) and three co-sponsors filed the Industrial Hemp Farming Act of 2013, the companion to
House Resolution 525
.
Blumenauer's bill would grant federal recognition to the use of medical marijuana and remove it from Schedule I of the Controlled Substances Act. Regulating medical marijuana would be left to the states, and people complying with state medical marijuana laws would be exempt from federal arrest and prosecution.
It was introduced with bipartisan co-sponsorship, including Reps. Steve Cohen (D-TN), Sam Farr (D-CA), Raul Grijalva (D-AZ), Alcee Hastings (D-FL), Michael Honda (D-CA), Jared Huffman (D-CA) ), Barbara Lee (D-CA), James Moran (D-VA), Jerrold Nadler (D-NY), Jared Polis (D-CO), and Dana Rohrabacher (R-CA).
"The States' Medical Marijuana Patient Protection Act will allow medical marijuana patients and businesses -- who are complying with state law -- the ability to access and distribute marijuana free from federal interference," Blumenauer said. "Nineteen jurisdictions have passed laws recognizing the importance of providing access to medical marijuana for the hundreds of thousands of patients who rely on it. It is time for the federal government to respect these decisions, and stop inhibiting safe access."
"There is a plethora of scientific evidence establishing marijuana's medical safety and efficacy and public polling for marijuana law reform is skyrocketing," said Jasmine Tyler, deputy director of national affairs for the
Drug Policy Alliance
. "However, when it comes to marijuana and the federal government, old fashioned politics routinely trumps modern science. The States' Medical Marijuana Patient Protection Act offers us hope we will see significant change with its passage. Congress should move swiftly to acknowledge what patients, doctors, researchers and scientists have been telling us for years: marijuana has therapeutic and medicinal benefits," said Tyler.
Farr's Truth in Trials Act is an attempt to restore fairness in federal medical marijuana prosecutions. Because the federal government refuses to recognize marijuana as anything other than a proscribed controlled substance, medical marijuana defendants and their attorneys are barred from even mentioning it or their state laws allowing its use in federal court. That has repeatedly resulted in state law-abiding medical marijuana growers and providers being convicted as drug dealers in federal courts, and sentenced accordingly.
Similar legislation has been introduced in previous years, but made little progress. Now, however, as the Obama administration keeps up the pressure on medical marijuana providers and in the wake of November's election results, supporters hope the bill can gain some traction.
This year's bill is cosponsored by Reps. Earl Blumenauer (D-OR), Steve Cohen (D-TN), Raul Grijalva (D-AZ), Barbara Lee (D-CA), James Moran (D-VA), Chellie Pingree (D-ME), Jared Polis (D-Co), Dana Rohrabacher (R-CA), and Henry Waxman (D-CA).
"The federal government for too long has denied due process to defendants who can demonstrate that they were using medical marijuana legally under local or state law," Farr said. "This bill would ensure that all the evidence is heard in a case and not just the evidence that favors conviction."
"Congress has the opportunity to establish a sensible public health policy on medical marijuana, and do what the Obama Administration has been afraid or unwilling to do," said Steph Sherer, executive director of
Americans for Safe Access
(ASA), which has been working with members of Congress to advance this legislation. "Patient advocates intend to push Congress to take heed of the abundant scientific evidence showing marijuana's medical value, and act in accordance with the overwhelming popular support this issue receives."
ASA is holding its first ever
National Medical Cannabis Unity Conference
this month in Washington, in part to do a big lobbying push for the bills. Attendees will convene in Washington on Friday, with the four-day conference culminating with a press conference and lobby day on Capitol Hill on Monday.
And then there was hemp. With Sen. Wyden's introduction of a Senate bill, there are now hemp bills in both houses. In addition to Wyden and Democratic and fellow Oregonian Sen. Jeff Merkley (D), the Senate hemp bill has the support of Sens. Rand Paul (R-KY) and Senate party leader Mitch McConnell (R-KY), both of whom have also endorsed hemp legislation back home in Kentucky.
"I am proud to introduce legislation with my friend Rand Paul and Senate colleagues, that will allow Kentucky farmers to harness the economic potential that industrial hemp can provide," McConnell said. "During these tough economic times, this legislation has the potential to create jobs and provide a boost to Kentucky's economy and to our farmers and their families."
"The Industrial Hemp Farming Act paves the way to creating jobs across the country -- from Kentucky to Oregon and everywhere else," Paul said. "Allowing American farmers to cultivate industrial hemp and benefit from its many uses will boost our states' economies and bring much-needed jobs in the agriculture community."
The House version of the bill was introduced earlier by Rep. Thomas Massie (R-KY) and has 28 cosponsors: Reps. Justin Amash (R-MI), Dan Benishek (R-MI), Earl Blumenauer (D-OR), Suzanne Bonamici (D-OR), John Campbell (R-CA), Lacy Clay (D-MO), Steve Cohen (D-TN), Peter DeFazio (D-OR), Keith Ellison (D-MN), Sam Farr (D-CA), Raul Grijalva (D-AZ), Richard Hanna (D-NY), Barbara Lee (D-CA), Tom McClintock (R-CA), Jim McDermott (D-WA), George Miller (D-CA), James Moran (D-VA), Jerrold Nadler (D-NY), Eleanor Norton (D-DC), Collin Peterson (D-MN), Chellie Pingree (D-ME), Mark Pocan (D-WI), Jared Polis (D-CO), Dana Rohrabacher (R-CA), Jan Schakowsky (D-IL), Kurt Schrader (D-OR), John Yarmuth (D-KY), and Ted Yoho (R-FL).
The hemp bills would remove federal restrictions on the domestic cultivation of industrial hemp. Specifically, the bill would remove hemp from the Schedule I controlled substance list under the Controlled Substances Act of 1970, and would define it as a non-drug so long as it contained less than 0.3 percent tetrahydrocannabinol (THC).
Eight states, including Oregon, have already passed bills providing for legal hemp production, but action in those states is on hold because the DEA refuses to recognize any difference between hemp and marijuana. That means US hemp product manufacturers must import hemp from countries that do recognize the difference between hemp and marijuana.
"Unfortunately, there are some dumb regulations that are hurting economic growth and job creation, and the ban on growing industrial hemp is certainly among them," Wyden said. "The opportunities for American farmers and businesses are obvious here. It's time to boost revenues for farmers and reduce the costs for the businesses around the country that use hemp."
Congress now has a full-blown marijuana agenda on its plate, from pot legalization to industrial hemp to medical marijuana, if it chooses to address it. And, given the overlapping cosponsorships on the various bills, it now appears to have developed a cannabis caucus. We've already come a long way from the days when it was all up to Barney Frank and Ron Paul, and they've just been gone a few weeks.