The Kentucky legislature approved an industrial hemp bill Wednesday in the final hour of the session, but only after last-minute negotiations brought it back from the dead. Whether Gov. Steve Beshear (D) will sign it remains to be seen.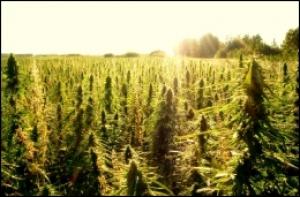 ]The bill,
Senate Bill 50
, would allow for industrial hemp production in Kentucky, if the federal government allows it, which it currently doesn't. It keeps the Kentucky Industrial Hemp Commission, which was created by earlier legislation, in the state Department of Agriculture and gives the University of Kentucky authority over hemp research.
Fighting over whether to shift the commission as well to the University of Kentucky nearly derailed the bill. The bill's lead sponsor, Sen. Paul Hornback (R-Shelbyville) and its chief advocate, Agriculture Commissioner James Comer, had to fend off efforts by House Majority Floor Leader Rocky Adkins (D-Sandy Hook) to shift the commission to the university.
Once agreement had been reached, the bill passed the House on an 88-4 vote, and the Senate then approved the compromise language on a 35-1 vote.
The bill now goes to Gov. Beshear, who has said he shares concerns aired by the Kentucky State Police, who opposed it on the grounds that it could make enforcing the marijuana laws more difficult. Beshear has not said whether he will veto the bill or sign it into law.
The bill was also supported by the Bluegrass State's two Republican US senators, Rand Paul and Mitch McConnell. McConnell is also an original sponsor of this year's federal hemp bill,
Senate Bill 359
.
According to the industry group
Vote Hemp
, eight states have already passed laws removing barriers to hemp production, while others have passed bills establishing commissions or research activities or passed resolutions endorsing industrial hemp.
Fifteen states
have seen hemp bills introduced this year.