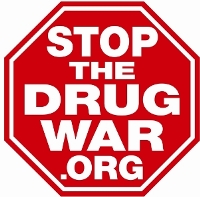 Marijuana legalization, medical marijuana, drug decriminalization, and psychedelic liberation are all on the ballot this week. And there's one bad initiative to reverse sentencing reforms.
Our new video on Duterte's drug war violence and Trump's support for it launches the "Stand with Human Rights and Democracy" campaign. Please visit DemocracyStand.Global, sign up for the email list, and like the campaign's Facebook and Twitter pages.
Our October 27 event launched the "Stand with Human Rights and Democracy" campaign, linking drug war human rights issues to the world's big picture challenges of these times.
If the feds want to use testimony from a snitch, the least they can do is actually have him appear in court.
Missouri and Virginia see their first medical marijuana sales, a Mississippi medical marijuana initiative campaign gets in trouble with the Trump campaign, and more.
It's jail guards gone wild, an Idaho city marshal gets nailed for peddling pot on duty, a South Carolina deputy heads to federal prison after getting caught in a drug sting, and more.
The Drug Policy Alliance is in a new push to move the MORE Act, there are new polls on the Arizona and Montana marijuana legalization initiatives, and more.
Virginia's governor signs a minor marijuana reform bill into, the Mexican government has captured a major cartel leader, heroin and fentanyl use is up during the pandemic, and more.
Missouri and Virginia both saw their first legal medical marijuana sales this past weekend, the US Sentencing Commission reports more than 3,000 federal prisoners have secured sentence reductions under the First Step Act, and more.
New York should be advancing marijuana legalization early next year, Mexico's Senate should be voting on marijuana legalization by month's end, and more.
The Trump campaign demands a Mississippi medical marijuana initiative campaign cease and desist from saying he supports it, the Transform Drug Policy Foundation releases a book on how to regulate stimulants, and more.
The Montana marijuana legalization initiatives have survived a last-minute legal challenge, the ACLU and DPA challenge the murder conviction of a meth-using California woman whose fetus was stillborn, and more.
Rwanda okays medical marijuana exports, state and local marijuana regulators want Congress to move on marijuana legalization, and more.
A new poll has both of South Dakota's marijuana initiatives winning, a Glasgow activist who runs an unauthorized mobile safe inject site has been arrested but is unbowed, and more.
Both New Yorkers and Czechs are ready to legalize marijuana, Bolivia's new president wants you to use coca toothpaste, and more.
Massachusetts' highest court rules worker's compensation doesn't cover medical marijuana costs, a Mississippi mayor has issued a last-minute legal challenge to the state's medical marijuana initaitive, and more.
Two Native American nations take different paths on marijuana and hemp, Virginia's governor signs Breonna's Law into effect, and more.
Santa Fe joins a growing list of cities and states that have banned no-knock raids, the Montana marijuana legalization initiatives look like they're heading for victory, and more.
A New Jersey bill to ensure workers' compensation covers medical marijuana advances, a Caribbean island nation embraces psychedelic therapies and wellness, and more.
Permission to Reprint:
This issue of Drug War Chronicle is licensed under a modified
Creative Commons Attribution license
. Articles of a purely educational nature in Drug War Chronicle appear courtesy of DRCNet Foundation, unless otherwise noted.