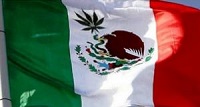 Drug testing toddlers, felony ingestion charges, overcrowded jails and prisons, racial disparities -- South Dakota has it all.
Mexico's narco-clowns are no laughing matter.
A Georgia narc gets in trouble for his sticky fingers, a Philadelphia narc uses a confiscated Porsche for his stepdaughter's prom pictures, and more.
Marijuana arrests nationwide increased last year despite spreading legalization, a California psilocbyn decriminalization initiative has been filed, and more.
Los Angeles sees the nation's first legal cannabis cafe, the Arizona pot legalization initiative draws industry opposition, the Justice Department says DEA didn't adequately regulate opioid manufacturing, and more.
A federal judge hands a preliminary legal victory to proponents of a Philadelphia safe injection site, hundreds of cannabis industry figures call on Congress to deschedule marijuana as a means of grappling with the vaping crisis, and more.
The Trump administration allows states to demand drug tests for laid off workers seeking unemployment benefits, a Florida marijuana legalization initiative's signature gathering campaign is off to a fast start, and more.
Nevada sees its first "cannabis tasting room," a New York poll finds continuing support for marijuana legalization amidst the vaping scare, British drug policy upheavals, and more.
Mexico is moving rapidly toward marijuana legalization, Scotland's largest political party is set to embrace drug decriminalization, and more.
Two UN agencies report that US airstrikes on Afghan drug labs were illegal and killed civilians, a Michigan roadside drug testing pilot program has now gone statewide, and more.
HHS comes out with new guidelines for physicians on tapering patients off opioids, marijuana social equity advocates keep the pressure on Congress, Tulsi Gabbard calls for drug decriminalization, and more.
A new study deflates one of the leading worries of marijuana legalization foes, the state of Texas abruptly quits taking medical marijuana dispensary applications, and more.
California will see a batch of new marijuana-related laws, Scotland's largest political party calls for drug decriminalization, and more.
The vaping crisis has impelled two more states to restrict marijuana vaping products, Mexican cartel gunmen kill 14 police in a bloody ambush, and more.
A pair of Pennsylvania state senators have filed a marijuana legalization bill, the Mexican Senate prepares to vote on marijuana legalization, Amnesty International rips the Philippine drug war, and more.
At least five governors have marijuana on their minds this week, Canada allows marijuana edibles and vapes to go on sale, a South Carolina judge rules the state's civil asset forfeiture law unconstitutional, and more.
The head of the Senate Banking Committee wants some changes made to the SAFE Banking Act, Kansas' Douglas County ends pot prosecutions, the Sinaloa Cartel battles Mexican soldiers and police to free El Chapo's son, and more.
Permission to Reprint:
This issue of Drug War Chronicle is licensed under a modified
Creative Commons Attribution license
. Articles of a purely educational nature in Drug War Chronicle appear courtesy of DRCNet Foundation, unless otherwise noted.