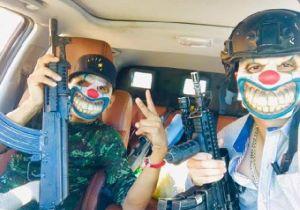 Move over, Joker. Step aside, Pennywise. And get back behind the curtain, Giuliani. There's some real-life killer clowns patrolling the streets down Mexico way, and they've got video to prove it.
According to local media reports from Tamaulipas state, just across the Rio Grande River from Brownsville and Harlingen, Texas, soldiers for a major drug trafficking organization, the Jalisco New Generation Cartel (CJNG), and their local affiliate, Los Metros, posted a series of bragging videos in recent weeks.
Unlike too many other Mexican cartel videos that depict horrendous violence, torture, and murder (usually inflicted on rival gang members, cops, or common criminals), these videos show no savage bloodletting. But this video of cartel members wearing clown masks, waving around weapons, and generally having a good time is still downright creepy and disturbing.
See for yourself:
Clown masks notwithstanding, these guys are no laughing matter. In recent years, the CJNGC has emerged as a major player among Mexico's drug cartels and is now the leading challenger to the remnants of Joaquin "El Chapo" Guzman's Sinaloa Cartel. Under the leadership of Nemesio "El Mencho" Oseguera Cervantes, the CJNG is responsible for sending tons of cocaine, meth, and fentanyl-laced heroin to the US and, according to the Justice Department, accounts for one-third of all illicit drugs being imported to the US.
As InSight Crime has noted, the CJNG emerged out of bloody intra-cartel battles for control of the lucrative drug trade" and has been associated with the use of extreme violence." Under the rubric of Matazetas (Kill Zetas), it moved into Zetas territory in the northeast of Mexico, claiming responsible for the massacre of 35 people in Veracruz in 2011.
In 2015, the CJNG raised its profile with a spectacular attack on police in Jalisco, killing 15 officers. The following month, it shot down a Mexican military helicopter, leaving five soldiers dead. Since then, the JNGC has continued on its bloody path to power and wealth, now operating in at least 22 Mexican states, with assets valued at around $20 billion.
The vast bulk of that money is coming from American drug buyers who, under a prohibition regime, are directly financing the JNGC and all the other groups involved in Mexico's delinquencia organizada. In that sense, the cartels are less killer clowns than the Frankenstein's monster of drug prohibition.