The head of the Senate Banking Committee wants some changes made to the SAFE Banking Act, Kansas' Douglas County ends marijuana prosecutions, the Sinaloa Cartel battles Mexican soldiers and police to free El Chapo's son, and more.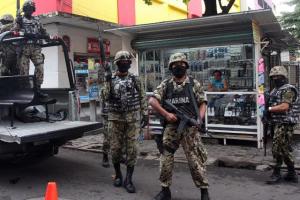 Marijuana Policy
Key GOP Senate Chairman Outlines Changes He Wants for Marijuana Banking Bill. Sen Mike Crapo (R-ID), head of the Senate Banking Committee, wants to see some changes in the SAFE Banking Act passed last month by the House. "The things we're looking at are, first of all, to make sure we improve and clarify the interstate banking application of all of this," Crapo said. "Secondly, money laundering issues with regard to legacy cash to make sure how that is managed properly. [Financial Crimes Enforcement Network] issues and other related issues. And then finally the health and safety issues about what is going to be banked."
Florida Marijuana Legalization Would Create 100,000 Jobs, Report Finds. A study from New Frontier Data finds that legalization would be a job booster for the state, creating more than 100,000 jobs by 2025. "Assuming full federal legalization, New Frontier Data estimates cannabis jobs could reach 128,587 by 2025," says John Kagia, chief knowledge officer at the DC-based research group. That's up dramatically from the state's current number of cannabis jobs, which Kagia says is at 16,792.
Kansas County Home to University of Kansas Ends Marijuana Possession Prosecutions. Douglas County, with a county seat of Lawrence, home of the University of Kansas, will no longer prosecute simple marijuana possession cases, District Attorney Charles Branson said Thursday. Branson cited changing attitudes, law enforcement priorities, and noted that pot prosecutions have "a disproportional impact upon people of color and the poor." The decision takes effect immediately.
Drug Testing
Louisiana Supreme Court Rules Unconfirmed Drug Test Can't Be Used to Deny Workers' Comp Claim. The state's highest court has ruled that an unconfirmed or unverified drug test is not sufficient to prove intoxication or fraud as a means of denying workers' compensation claims for injured workers. The court noted that state law requires verification or confirmation of any testing before disqualifying any claims.
International
Mexico's Sinaloa Cartel "Unarrests" El Chapo's Son as Security Forces Retreat. Mexican security forces captured one of imprisoned drug lord Joaquin "El Chapo" Guzman's sons in the cartel heartland city of Culiacan on Thursday, but were forced to release him after cartel gunmen surrounded the house where he was being held, triggered gun battles with authorities, and organized a prison break. Police said Ovidio Guzman was one of four people in a house where militarized police came under attack, but when they arrested him, cartel gunmen quickly outmatched them, and Guzman was released to prevent lives being lost, security officials said. As Guzman was being held, fighters emerged throughout the city, fighting police and soldiers in broad daylight, used burning buses as barricades, and left at least one gas station ablaze. At least two people were killed, though some reports mentioned seeing three bodies at one location.