A pair of Pennsylvania state senators have filed a marijuana legalization bill, the Mexican Senate prepares to vote on marijuana legalization, Amnesty International rips the Philippine drug war, and more.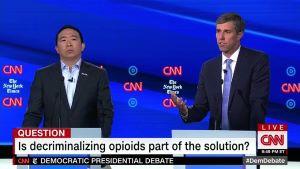 Marijuana Policy
Colorado Officials Move to Ban Three Marijuana Vaping Additives. The Marijuana Enforcement Division held a public hearing Tuesday as its moves to finalize a ban on three additives in marijuana vaping products that have been linked to the outbreak of lung illnesses among vapers. Those additives are Polyethylene glycol (PEG), Vitamin E Acetate, and Medium Chain Triglycerides (MCT Oil). The proposed rules will be sent to the State Licensing Authority for approval and signature. Provided the changes are approved, they would go into effect on January 1.
Pennsylvania Senators File Marijuana Legalization Bill. State Sens. Daylin Leach (D) and Sharif Street (D) have filed SB 350 to legalize marijuana. Under the bill, anyone 21 or over could consume the substance, consumption lounges would be allowed, and people would be allowed to grow up to 10 plants at home as long as they register and pay a $50 annual fee. Similar legalization legislation has already been introduced in the House.
Drug Policy
Two Presidential Candidates Voice Support for Drug Decriminalization at Democratic Debate. Democratic presidential contenders Andrew Yang and Beto O'Rourke both came out in favor of decriminalizing opioids during the Democratic debate Tuesday night. "We need to decriminalize opioids for personal use. We need to let this country know this is not a personal failing, this was a systemic government failing," Yang said in response to a panelist's question. "Then we need to open up safe consumption and safe injection sites around the country because they save lives." When O'Rourke was asked whether decriminalization is part of the solution to the opioid crisis, he responded: "Yes it is. For many of the reasons that Mr. Yang just described."
Foreign Policy
White House Extends Long-Lived National Emergency on Colombia Drug Trafficking. President Trump has continued a 1995 executive order declaring a national emergency regarding Colombian drug trafficking for another year. "The actions of significant narcotics traffickers centered in Colombia continue to threaten the national security, foreign policy, and economy of the United States and cause an extreme level of violence, corruption, and harm in the United States and abroad," he wrote in his notice. "Therefore, in accordance with section 202(d) of the National Emergencies Act (50 U.S.C. 1622(d)), I am continuing for 1 year the national emergency with respect to significant narcotics traffickers centered in Colombia declared in Executive Order 12978."
International
Mexico Senate Could Vote on Marijuana Legalization in Next Few Days. A key lawmaker has told Reuters the Senate will vote on a bill to legalize marijuana in the next few days. Sen. Ricardo Monreal, the Senate leader for the ruling MORENA Party, said the bill would regulate personal use and marijuana sales, as well as research into the plant. The bill also contemplates the creation of marijuana growing cooperatives. "The end of the prohibitionist policy is good for the country," Monreal said. Under a Mexican Supreme Court ruling, the government has until October 24 to legalize marijuana. If and when the measure passes the Senate, it then goes to the House, which is also controlled by the MORENA Party.
Philippine Drug War Should End Following Police Chief's Resignation, Amnesty International Says. Philippines National Police head Gen. Oscar Albayalde was forced to resign over corruption in the National Police, the lead agency prosecuting the country's bloody drug war, and now Amnesty International is calling for that campaign to end. Nicholas Bequelin, Amnesty International's Regional Director for East and Southeast Asia, said: "General Albayalde's resignation is the last blow to the credibility of the so-called 'war on drugs'. The Philippines authorities must ensure that justice is done and that this lawless and murderous campaign ends now. President Duterte has said that due process of law will be afforded to Albayalde -- the very rights that his government has denied to thousands of people suspected of using or selling drugs, who have been unlawfully killed by the police acting as judge, jury and executioner. This scandal shows that impunity is entrenched in the institutions supposed to uphold human rights and the rule of law. The authorities must urgently expand their probe into General Albayalde to cover the wide-ranging police abuses that continue up to this day."
(This article was prepared by StoptheDrugWar.org's 501(c)(4) lobbying nonprofit, the Drug Reform Coordination Network, which also pays the cost of maintaining this website. DRCNet Foundation takes no positions on candidates for public office, in compliance with section 501(c)(3) of the Internal Revenue Code and does not pay for reporting that could be interpreted or misinterpreted as doing so.)