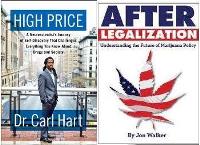 Drug reform journalist Dean Becker has an impassioned new book out, and this week, he's in Washington, DC, to deliver copies to elected officials for their "summer reading assignment." What better time to take a look?
For the first time ever we are offering an "E-Book" as our latest membership premium, as well as a popular author-signed book for a reduced price.
The Grey Lady goes green. The New York Times editorial board has come out swinging in favor of ending federal marijuana prohibition.
The marijuana industry is taking steps to ensure that edibles manufacturers and marijuana retailers know how to be responsible businesses.
Rand Paul has filed an amendment to Senate Bill 2569, the "Bring Jobs Home Act," that would explicitly allow states to pass medical marijuana laws despite the provisions of the federal Controlled Substances Act. The amendment would also bar prosecutions of patients and doctors for engaging in medical marijuana activities in states where it is legal.
Sen. Rand Paul (R-KY) has filed a bill to reform federal asset forfeiture laws. Yesterday, he introduced the FAIR (Fifth Amendment Integrity Restoration) ACT, Senate Bill 2644, which would require the government to prove with clear and convincing evidence that the property it wishes to forfeit is connected with a crime.
Rand Paul has introduced his fourth drug reform measure this month. This one would completely eliminate the crack/powder cocaine sentencing disparity.
ProCon.org is a series of in-depth web sites presenting information and views from on current issues, several with relevance to drug policy. The Chronicle is running a series of info items from ProCon.org over the next several weeks -- this first one from medicalmarijuana.procon.org -- and we encourage you to check it out.
A pair of federal bills get filed, California's medical marijuana wars continue, Florida looks set to pass medical marijuana this fall, pressure is rising for New York to get its program up and running, and more.
A Florida Army veteran has been killed in a shootout with Florida narcotics officers attempting to intercept a package at his home.
A high-speed chase during an Ohio drug investigation ends with a dead pedestrian, but the police said they did everything right. Their own policy manual would seem to beg to differ.
A six-pack of dirty narcs gets nailed in Philly, a trio of crooked jail guards gets popped in New York City, an upstate New York cop gets busted for providing heads-ups to suspects, and a former West Virginia cop heads to prison for ripping off pain pills.
There's dollar signs coming with marijuana legalization laws, Rand Paul moves to protect medical marijuana, medical marijuana comes too late for one New York girl, there's a new opiate pain reliever out there (with a twist), and more.
Wichita looks set to vote on decriminalization this fall, Rand Paul (busy, busy) files a federal asset forfeiture reform bill, drug users finally get a voice at the International AIDS Conference, and more.
The New York Times comes out for marijuana legalization, a Florida poll finds majority support for it, Rand Paul introduces a bill to wipe out the crack/powder cocaine sentencing disparity, and more.
Another day, another slew of marijuana stories, but also, the UNODC issues a call for harm reduction funding proposals, an upstart New York governor candidate calls out Cuomo on clemency, we see the year's 27th drug war death, and more.
Marijuana arrests are up in a third of the states, the drug czar's office responds to the New York Times, Dr. Carl Hart wins a literary award, Philly narcs get busted, and more.
Permission to Reprint:
This issue of Drug War Chronicle is licensed under a modified
Creative Commons Attribution license
. Articles of a purely educational nature in Drug War Chronicle appear courtesy of DRCNet Foundation, unless otherwise noted.