US Senator Rand Paul (R-KY) today filed an amendment to Senate Bill 2569, the "Bring Jobs Home Act," that would explicitly allow states to pass medical marijuana laws despite the provisions of the federal Controlled Substances Act. The amendment would also bar prosecutions of patients and doctors for engaging in medical marijuana activities in states where it is legal.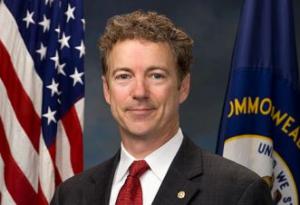 The amendment, No. 3630, is not yet available on the congressional web site, but a copy has been made available to the Chronicle.
"Notwithstanding section 708 of the Controlled Substances Act or any provisions of law (including regulations), a State may enact and implement a law that authorizes the use, distribution, possession, or cultivation of marijuana for medical use," the amendment says.
"No prosecution may be commenced or maintained against any physician or patient for a violation of Federal law (including regulations) that prohibits the conduct described in subsection (b) [Ed.: The paragraph above.] if the State in which the violation occurred has in effect a law described in subsection (b) before, on, or after the date on which the violation occurred."
The amendment then lists the 32 states and the District of Columbia that have laws allowing for the use of medical marijuana, including some that only allow for the use of low-THC, high-CBD cannabis oils.
Senate Bill 2569 was introduced in the Senate earlier this month.