Marijuana arrests are up in a third of the states, the drug czar's office responds to the New York Times, Dr. Carl Hart wins a literary award, Philly narcs get busted, and more. Let's get to it: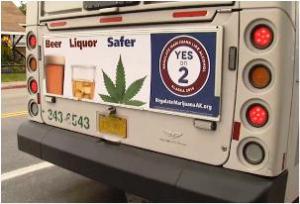 Marijuana Policy
ONDCP Responds to New York Times Call to End Federal Marijuana Prohibition. In a Monday night blog post, the Office of National Drug Control Policy (ONDCP -- the drug czar's office) responded to the New York Times's Sunday editorial calling for the end of federal marijuana prohibition. "Marijuana legalization is not the silver bullet solution," ONDCP proclaimed. "The New York Times editorial team failed to mention a cascade of public health problems associated with the increased availability of marijuana," the blog post reads. "While law enforcement will always play an important role in combating violent crime associated with the drug trade, the Obama Administration approaches substance use as a public health issue, not merely a criminal justice problem." Click on the link to read the whole post.
NORML PAC Endorses Constance Johnson for US Senate in Oklahoma. NORML PAC, the campaign and lobbying arm of the National Organization for the Reform of Marijuana Laws (NORML) has endorsed state Sen. Constance Johnson (D) for the US Senate in Oklahoma. Johnson has been an advocate for medical marijuana and marijuana legalization and, this year, has been leading a petition drive to put legalization on the November ballot. "I'm incredibly thankful for NORML's endorsement, " said Sen. Johnson. "After years of stonewalling in the state legislature, I'm taking this fight to the people. It's time for the people of Oklahoma to speak on this issue." The Democratic primary is August 26.
Marijuana Arrests Up in Many States. Although annual marijuana arrests nationwide declined by 3.3% between 2008 and 2012, they increased in at least 17 states, according to a report published by NORML, Marijuana in the States 2012: Analysis and Detailed Data on Marijuana Use and Arrests. South Carolina and the District of Columbia saw the biggest increases, but DC has just decriminalized marijuana possession, so that should change soon. Marijuana arrests accounted for two-thirds of more of all drug arrests in five states: Nebraska (74.1%), New Hampshire (72%), Montana (70.3%), Wyoming (68.7%) and Wisconsin (67.1%).
Alaska Legalization Campaign Unveils News Bus Ads. The Campaign to Regulate Marijuana Like Alcohol In Alaska unveiled a series of bus ads yesterday in Anchorage that highlight the relative safety of marijuana compared to alcohol. The ads will appear throughout the week on city buses.
National Cannabis Industry Association Announces Food Safety Program for Edibles Makers and Responsible Selling Program for Retailers. The National Cannabis Industry Association will hold a ServSafe Food Safety training for edibles makers and a responsible selling program for budtenders in Denver next month. Click on the link to register.
Medical Marijuana
New York Governor Tells Health Department to Hurry Up with Medical Marijuana. Impelled by the deaths of two children with epileptic seizure disorders whose conditions could be alleviated with medical marijuana, Gov. Andrew Cuomo today sent a letter to the Department of Health urging it to find ways to "accelerate the process for this specific dire population." Cuomo added that he looked forward "to any progress you can make for the children of our state living with epilepsy."
Fired University of Arizona Medical Marijuana Researcher Loses Appeal. Dr. Sue Sisley, the University of Arizona researcher whose pending study of medical marijuana to treat PTSD among veterans was halted when she was fired last month, has lost an appeal to regain her job. Sisley is now looking for a new academic home to pursue the research.
Law Enforcement
Six Philadelphia Narcs Charged in Corruption Probe. The long-running scandal around Philadelphia's out-of-control narcotics units took another twist today when federal prosecutors filed criminal charges against six of them, including robbery, extortion, kidnapping, and drug dealing. They are accused of shaking down drug dealers and stealing hundreds of thousands in cash and drugs over a six-year period. Federal prosecutors asked that they be held without bail, given their violent histories.
Drug Science
Dr. Carl Hart's "High Price" Wins Science Writing Award. Dr. Carl Hart, a neuroscientist and associate professor of psychology and psychiatry at Columbia University (and Drug Policy Alliance board member), has been awarded the PEN/EO Wilson Literary Science Writing Award for his memoir, "High Price: A Neuroscientist's Journey of Self-Discovery That Challenges Everything You Know About Drugs and Society." Read our review of "High Price" here.
International
Medical Marijuana Civil Disobedience Action in Italy. Activists affiliated with the Italian Radical Party have engaged in civil disobedience over medical marijuana by planting seeds to grow specifically selected marijuana plants to treat patients with multiple sclerosis. The move is a result of frustration with the lack of effective access to medical marijuana in the country, where only 60 patients manage to obtain Dutch-produced medical marijuana through the Public Health Service. Click on the link for more details.
(This article was published by StoptheDrugWar.org's lobbying arm, the Drug Reform Coordination Network, which also shares the cost of maintaining this web site. DRCNet Foundation takes no positions on candidates for public office, in compliance with section 501(c)(3) of the Internal Revenue Code, and does not pay for reporting that could be interpreted or misinterpreted as doing so.)