by psmith, June 08, 2012, 04:56pm, (Issue #738)
US Attorney General Eric Holder appeared before the House Judiciary Committee last Thursday and defended his Justice Department's crackdown on medical marijuana cultivation and distribution. Holder told committee members the agency was only targeting only those medical marijuana businesses that were "acting out of conformity… with state law."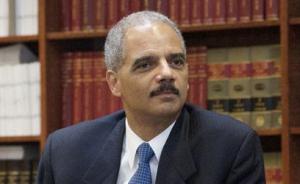 That had medical marijuana defenders up in arms at what they called his falsehoods. Advocates pointed to numerous dispensaries and other medical marijuana-related enterprises that were operating in compliance with state laws and with the support of local elected officials that have been raided by the DEA or subjected to other federal enforcement actions.
Holder's comments came in response to questioning from Rep. Jerrold Nadler (D-NY), who pointed out that during his 2008 presidential campaign, Barack Obama had promised that he wouldn't use "Justice Department resources to try to circumvent state laws on this issue."
Holder agreed that the Justice Department had broken with Bush administration policy and promised not to go after people operating in compliance with state laws. But large-scale growers and dispensaries have "come up with ways in which they are taking advantage of these state laws and going beyond that which the states have authorized," Holder added. "Those are the only cases we've being going after."
Nadler pointed out that since 2009, the DEA and federal prosecutors have raided almost 200 dispensaries and growers and indicted more than 60 medical marijuana providers on federal drug charges and again asked Holder to clarify.
Holder responded that the Justice Department is only going after "those individuals (and) organizations that are acting out of conformity... with state laws."
Holder added, however, that in some cases, mainly in Colorado, the department was also targeting dispensaries located "too close" to schools. Those enforcement actions were taken not because the dispensaries were violating state laws, but because they were inside the 1,000-foot range specified by an enhanced federal sentencing statute.
Holder "lied to the House Judiciary Committee" in saying the Justice Department was only going after dispensaries and growers that were not in compliance with state laws,"
California NORML
(CANORML) retorted bluntly. "The Justice Department's bad faith seriously impugns the credibility and competence of Attorney General Holder and his administration."
Steph Sherer, executive director of
Americans for Safe Access
(ASA), was only slightly more politic.
"What he said to our congressional representatives should be alarming not only to medical cannabis patients, but also to policymakers and the general public, because, based on all of the available information we have, it surely must be a lie," she wrote on the
Huffington Post
.
The
Marijuana Policy Project
(MPP) was a bit more diplomatic.
"The problem with Holder's statements is that the federal government's determination of compliance with state law is still fairly ambiguous, even arbitrary," MPP spokesman Morgan Fox told the Chronicle. "This makes it difficult for medical marijuana providers to know if they are safe, creating a chilling effect on the entire industry and resulting in pain, suffering, and potential danger for patients forced to resort to the illicit market."
The states should decide whether a dispensary is violating state law, he added.
"At the end of the day, it should be state authorities who determine if operators are in compliance with state law, not federal prosecutors who view the entire industry through a filter of illegality," Fox said. "Beyond that, using any federal resources to interfere with medical marijuana in states where it is legal is an inexcusable waste when there are far more serious problems that need attention."
CANORML was quick to point to a long list of California medical marijuana facilities that had been raided, threatened, or driven out of business by federal enforcers despite having sterling reputations, local official support, and complying with state laws and local regulations. Among them are many well-known and -respected operations including the Berkeley Patients Group, the Marin Alliance for Medical Marijuana, Richard Lee's Oaksterdam University and Blue Sky Coffee Shop, Mendocino County's Northstone Organics, and at least five San Francisco dispensaries, including the Vapor Room, Hope Net, Divinity Tree, Shambhala, and Medithrive.
CANORML noted that in all of those cases, local officials denounced the Justice Department enforcement actions, "but US Attorneys have insolently disregarded community sentiment."
And that's just in Northern California. US Attorneys in other parts of the state have been equally -- if not more -- active in going after medical marijuana providers. Just one day before Holder addressed the committee, federal prosecutors in Southern California announced
a crackdown on Los Angeles County dispensaries
, with the DEA raiding two dispensaries and federal prosecutors sending threat letters to 34 more.
The statewide crackdown has been ongoing since last October, when the state's four US Attorneys jointly announced their campaign to rein in the industry. According to ASA, the federal actions have forced more than 300 medical marijuana operations to shut down.
"It's simply not believable that all of these taxpaying businesses were operating in violation of state law," Sherer noted, before asking a series of pointed questions. "If they were, why didn't the state take part in the raids? Why didn't the state or local authorities issue arrest warrants? Why would state and local politicians stand up for businesses breaking state and local laws?"
And stand up they have. Local elected officials, state representatives, state officials, even California Attorney General Kamala Harris have all urged the feds to butt out.
Harris wrote to all four US Attorneys in December
, telling them the federal government was "ill-equipped" to interpret and enforce state medical marijuana laws.
The fight continues. On Wednesday, the same day the feds announced a new phase of their offensive in Southern California and the same day President Obama visited the Bay Area on a fundraising trip, three San Francisco supervisors wrote an
op-ed
asking him to "keep the commitment he made to stop the federal government's attacks on medical cannabis."
For medical marijuana advocates, listening to Attorney General Holder saying he is only targeting operations in violation of state laws is bringing back memories of that old country and western music song: "Who are You Gonna Believe? Me or Your Lying Eyes?"
back to top