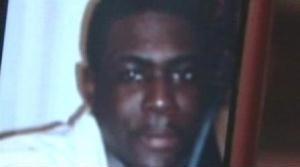 A New York City police officer has been indicted on manslaughter charges in the Bronx shooting death of 18-year-old Ramarley Graham. Graham, a young black man, was shot and killed in the bathroom of his own home after a team of NYPD narcotics officers followed him home, broke in, and confronted him.
When he was killed in February, Graham was
the eighth person to die in drug law enforcement activities so far this year
. That number is
now up to 28
. The indictment of NYPD Officer Richard Haste is the first of any officer in any of those deaths.
Although the indictment has not been officially unsealed, the
New York Times
reported that a grand jury has indicted Haste, 30, on charges of first- and second-degree manslaughter. More charges could be pending.
Graham was shot and killed after he and a pair of friends caught the attention of narcotics officers who had staked out a bodega on White Plains Road. They radioed their colleagues and said they believed he had a gun in his waistband as he walked toward his home. Officer Haste dashed to the scene, broke into Graham's apartment, and shot and killed him in his bathroom.
No weapon was found, but police did say they found marijuana in a plastic baggie in the toilet bowl, suggesting Graham may have been trying to get rid of the evidence to avoid becoming another New York City pot bust statistic.
The shooting has provoked anger in the community and led to numerous calls for justice for Graham and other victims of overzealous policing in the city. It has also focused attention on the aggressive tactics of the NYPD's Street Narcotics Enforcement Unit, teams of officers who surreptitiously surveil the streets looking for drug deals before bursting in to bust dealers and customers.
The Graham shooting has focused attention on the aggressive tactics of the Police Department's Street Narcotics Enforcement Units -- teams of six or seven officers who hide on rooftops or in parked cars as they scan the streetscape for drug transactions before swooping in to arrest dealers and customers. Police Commissioner Ray Kelly ordered a review of the units' tactics, but the results of that review have not been released.
The last time NYPD officers were indicted for killing a resident was when three of them riddled Sean Bell's body with bullets as he attended his pre-wedding party in 2007. Those officers were eventually found not guilty.