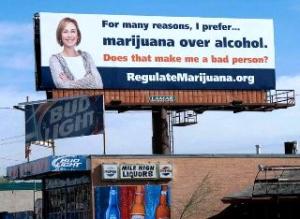 In November, voters in Colorado will decide whether to approve
Amendment 64
, a state-wide ballot initiative to end marijuana prohibition and regulate marijuana like alcohol. A new
Rasmussen poll
released Monday suggests the initiative could be well on the way to victory.
In its June 6 survey of likely voters, Rasmussen found support for marijuana legalization at 61%. More strikingly, only 27% opposed legalization, with 12% undecided. Respondents were asked whether they supported "legalizing marijuana and regulating it in a way similar to the way alcohol and tobacco cigarettes are regulated today."
The conventional wisdom among initiative watchers is that initiatives need to be polling at 60% or above at the beginning of the campaign to have a chance of winning. Veteran observers note that opponents of an initiative are always able to peel away some support with negative campaigning late in the game.
But in Colorado, not only is support for pot legalization strong, it is trending upward. A December 2011
Public Policy Polling
survey had support at 49%, with 40% saying it should remain illegal.
Marijuana legalization also had more support than either major party presidential candidate. Both Barack Obama and Mitt Romney garnered 45% support. How the politics of marijuana in Colorado will affect the presidential race there remains to be seen.
Rasmussen conducted phone interviews with 500 likely Colorado voters. The poll's margin of error is +/-4.5%.