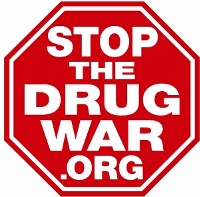 We're looking at 2019 through the rearview mirror now, but before we turn our sights to 2020, it's worth taking a few moments to look back at the last year in international drug policy.
The 7th Circuit rules that drugs recovered during an illegal raid are still admissable as evidence under a little known legal doctrine elaborated by Antonin Scalia.
A pervy Florida cops heads to prison, a New Mexico narc is in trouble for sampling forbidden substances, a Virginia narc pays for outing snitches to drug traffickers, and more.
A bipartisan pair of senators file a pair of marijuana bills, a key Senate Republican is demanding changes in the House-passed SAFE Banking Act, and more.
South Dakota voters will get to decide on okaying medical marijuana next year, Chicago legal sales are set to begin January 1, New Zealand's government pays for a pill-testing study, and more.
No marijuana brews for Oregonians, Trinidad & Tobago legalizes possession and cultivation, Trump asserts the power to enforce federal drug laws in medical marijuana states, and more.
Portland, Oregon, sees a psychedelic decriminalization initiative begin signature gathering, and more.
Legal marijuana sales get underway in Illinois, the Italian Supreme Court gives the okay to personal marijuana cultivation, Colombia wants to resume aerial spraying of coca crops with herbicides, and more.
New York's governor vetoes a bill easing access to medication-assisted treatment for opioid addiction for Medicaid patients, but not for patients with private insurance; Illinois sold $3.2 million worth of weed on day one of legalization, and more.
Virginia's Democratic governor is ready to push for pot decriminalization as part of a broader criminal justice reform package, federal opioid funds will soon be available to address meth and cocaine as well, the Philippines' vice-president rips Duterte's bloody drug war, and more.
The MORE Act gets another push, there will be no decriminalization of marijuana in New Jersey during the lame duck session, a South Dakota marijuana legalization initiative qualifies for the ballot, and more.
The Atlanta Police are shutting down their dope squad to concentrate on violent crime, the Florida legislature and state attorney general try to block a marijuana legalization initiative, and more.
A search for a permanent new executive director is underway at the Drug Policy Alliance, Mississippians will vote on a medical marijuana initiative this year, New York's governor vows to legalize marijuana this year (again), and more.
Vermont lawmakers begin a push to tax and regulate marijuana sales, the Decriminalize Nature movement arrives in the nation's capital, Colombia's president and governors disagree about aerial eradication of coca crops, and more.
Permission to Reprint:
This issue of Drug War Chronicle is licensed under a modified
Creative Commons Attribution license
. Articles of a purely educational nature in Drug War Chronicle appear courtesy of DRCNet Foundation, unless otherwise noted.