South Dakota voters will get to decide on okaying medical marijuana next year, Chicago legal sales are set to begin January 1, New Zealand's government pays for a pill-testing study, and more.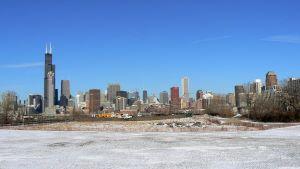 Trump Administration Moves to Deny Asylum Over Misdemeanor Marijuana Offenses
. As part of its crackdown on immigration, the Trump administration has proposed changing immigration policy to prevent people convicted of various misdemeanor and felony offenses from claiming asylum in the US. That would include any marijuana offense except for a first offense involving possession of less than 30 grams. The proposal is open to public comment through January 21.
New Mexico Poll Show Very Strong Support for Marijuana Legalization. A new poll from Change Research has support for marijuana legalization in the Land of Enchantment at a whopping 73%. This just a month ahead of a legislative special session where the governor is expected to back a legalization bill.
Vermont House Speaker Says Majority of Lawmakers Back Legalizing Marijuana Sales. House Speaker Mitzi Johnson (D) said Thursday that there is enough support in her chamber to pass a marijuana sales legalization bill this year. But Senate President Pro Tempore Tim Ashe (D) has said the legislation isn't a priority in his chamber. On Thursday, he said the Senate is in "wait and see mode" on what changes the House may make.
Chicago City Council Rejects Delay; Legal Marijuana Sales Will Begin January 1. At a contentious meeting Wednesday night, the city council rejected a bid to delay marijuana sales until July 1. The move came a day after a council committee approved the delay, citing complaints that minorities were losing out on ownership of city marijuana businesses. Mayor Lori Lightfoot (D) opposed the delay, saying diversity could be addressed without delaying the sales rollout.
Medical Marijuana
South Dakota Medical Marijuana Initiative Qualifies for November 2020 Ballot. For the third time, state voters will have the opportunity to legalize medical marijuana via the ballot box. Secretary of State Steve Barnett (R) announced Thursday that a medical marijuana initiative, Initiated Measure 26, has qualified to appear on the November 2020 ballot. The measure is supported by New Approach South Dakota and the Marijuana Policy Project.
International
New Zealand Government Will Fund Pill-Testing Study. The New Zealand government has funded a study to research pill-testing at music festivals, marking the first time such a study will have been done in the country. Under current law, festival promoters can be charged for allowing recreational drug use at their events, but authorities have at times turned a blind eye to the harm reduction practice and the national police approve of the study. It will be conducted by a criminology team from the Victoria University of Wellington.