Scholars, advocates, and a US congressman are calling on Obama to ramp up the commutation process in the final weeks of his term, the CDC issues a report calling for expanded syringe exchange, Maryland moves to address racial diversity (or the lack thereof) in the medical marijuana business, and more.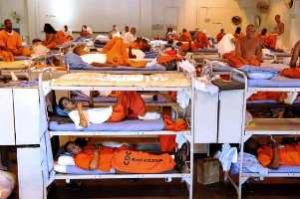 Marijuana Policy
Massachusetts Marijuana Victory Faces Certification Delay. Secretary of State William Galvin said Monday that the November 8 election results may not be certified in time for marijuana legalization to go into effect on December 15, that date it is supposed to become legal. Ballot initiatives in the state do not become law until they are officially certified, and a December 14 meeting is the earliest date voting tallies on the initiative are likely to presented, Galvin said. But if not by December 15, certainly by early next year, he added: "All those tokers can hold their breath a little longer, but they'll be able to exhale" by early 2017, Galvin quipped.
Medical Marijuana
Maryland Moving to Improve Diversity in Medical Marijuana Industry. The state Cannabis Commission announced Monday that it is hiring a consultant to advise it on steps it can take to improve racial diversity in the nascent industry. The consultant will decide whether a study can be conducted to determine whether minorities have been unfairly excluded. If such a finding is made, that would allow the state to consider race when awarding medical marijuana licenses.
Harm Reduction
Groundbreaking Report from CDC Calls for Expansion of Syringe Access Programs. In a report on HIV and injection drug use released Tuesday, the Centers for Disease Control and Prevention (CDC) calls strongly for expanding needle exchange programs. "Syringe services programs (SSPs) can play a role in preventing HIV and other health problems among people who inject drugs (PWID)," the report found. "They provide access to sterile syringes and should also provide comprehensive services such as help with stopping substance misuse; testing and linkage to treatment for HIV, hepatitis B, and hepatitis C; education on what to do for an overdose; and other prevention services. State and local health departments can work with their lawmakers and law enforcement to make SSPs more available to PWID."
Sentencing
Calls Mount For Obama to Ramp Up Commutations as Term Nears End. A coalition of scholars and activists as well as a US congressman are calling on President Obama to expand clemency efforts in the final weeks of his administration -- including considering granting clemency to entire groups of people without case-by-case review. Obama has commuted the sentences of more than a thousand people sentenced under draconian drug war sentencing laws, but thousands more have applied for commutations without those applications yet being acted on.
International
Iran Keeps Moving Toward Ending the Death Penalty for Drugs. The Iranian parliament last week agreed to expedite deliberations on a measure that would dramatically limit the number of people facing execution for drug offenses in the Islamic Republic. Now, the proposal will get top priority in the Legal and Social Affairs Committee before heading before the full parliament. The measure would limit the death penalty to "organized drug lords," "armed trafficking," "repeat offenders," and "bulk drug distributors." Iran is one of the world's leading drug executioners, with drug offenders accounting for the vast majority of the more than a thousand people it executed last year.