New studies suggest psychedelics could help terminal patients deal with their fears, the Ohio legislature prepares to pass asset forfeiture reform, and more.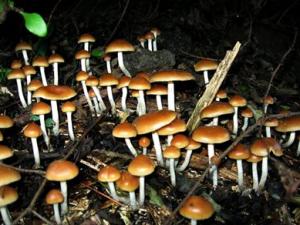 Psychedelics
Studies Suggest Magic Mushrooms Could Help Cancer Patients Deal With Fear. A pair of studies published Thursday in the Journal of Psychopharmacology suggest that psilocybin, the psychedelic drug in magic mushrooms, could help terminal cancer patients cope with fear and anxiety around impending death. "The findings are impressive, with good safety data and large effect sizes," says Robin Carharrt-Harris, who studies psychedelic drugs at Imperial College London. "My feeling is that these studies will play a significant role in waking up the scientific and medical mainstream to the therapeutic potential of psychedelics."
Asset Forfeiture
Ohio Legislature Poised to Pass Civil Asset Forfeiture Reform, Despite Police and Prosecutors' Opposition. Legislative leaders say they expect to pass a civil asset forfeiture reform bill in the state Senate next week. The measure, House Bill 347, passed the House in the spring, but was delayed in the Senate when a committee approved an amendment to address concerns raised by prosecutors. The bill originally would have eliminated civil asset forfeiture, but now has been softened to allow it if the property owner is dead, the suspect cannot be located, or the owner does not claim the property. It also allows for civil forfeiture post-conviction.
Harm Reduction
It's World AIDS Day. We Can't End AIDS Until We End the War on Drugs. "Today, December 1, is World AIDS Day," writes the Drug Policy Alliance's Laura Thomas. "In 1989, I was arrested in front of the White House on World AIDS Day, demanding that then-President Bush take action on HIV/AIDS. Among the issues we were demanding action on then, so many years ago, was the availability of sterile syringes for people who inject drugs, so they could stop the transmission of HIV. In the decades since, we have celebrated amazing victories against HIV/AIDS. We now have treatments we could only dream of then. We have pills that will prevent HIV. We have a National HIV/AIDS Strategy. We even have an effective cure for hepatitis C. And we are keeping many, many more people with HIV alive now. And yet, it is syringe access -- needle exchange -- that we have been the slowest to win…" Click on the link for the whole post.