The International Narcotics Control Board takes a surprising stand, Maine's pot legalization initiative hits an unexpected roadblock, Denver NORML files a pot social club initiative, a Florida needle exchange bill heads to the governor's desk, and more.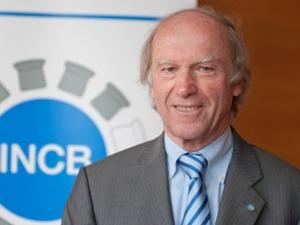 Marijuana Policy
Maine Says Legalization Initiative Short on Signatures, Campaign Strongly Disagrees. The secretary of state's office today rejected the legalization initiative from the Campaign to Regulate Marijuana Like Alcohol, saying it had failed to hand in a sufficient number of valid voter signatures. The group handed in more than 99,000 signatures and only needed 61,000 valid ones to qualify for the November ballot, but the state rejected more than 48,000 signatures, and now the campaign is crying foul. "Based on documents they have provided, it appears that more than 17,000 valid signatures from registered Maine voters were excluded from the count because the signature of a single notary — whose notary commission has not expired — did not exactly match the signature the state has on file for that notary," MPP Maine political director David Boyer said in a written statement. "We are exploring all legal means available to appeal this determination and we sincerely hope that 17,000-plus Maine citizens will not be disenfranchised due to a handwriting technicality."
Mississippi House Rejects Legalization. Offered unexpectedly as an amendment to a drug penalties bill, House Bill 701, a bid to legalize marijuana went down 90-29 Tuesday. Lawmakers said it was the first time in decades, and possibly ever, that the House had voted on marijuana legalization.
New Hampshire Poll Has Strong Support for Legalization. Some 62% of adults polled in a new WMUR Granite State survey favor legalizing marijuana, and 72% of those surveyed said they would approve of selling it in licensed retail outlets.
Denver NORML Files Marijuana Social Club Initiative. The group today submitted an initiative to legalize marijuana consumption clubs and special events. "Denver residents and visitors alike need places other than private homes to legally and responsibly enjoy legal marijuana with other adults," said Jordan Person, executive director of Denver NORML. "This submission to city council is the first step. We'll get feedback from the city, finalize the language, then start gathering signatures to put it on the ballot," Person said.
Heroin
Maine Bill to Refelonize Heroin Possession Advances. Last year, legislators voted to make small-time heroin possession a misdemeanor; this year, they are on a path to reverse themselves. On Monday, the Criminal Justice and Public Safety Committee approved LD 1554, which would let prosecutes charge anyone possessing heroin, meth, or more than 14 grams of cocaine with a felony. The bill is supported by the administration of Gov. Paul Le Page (R).
Harm Reduction
Florida Needle Exchange Bill Heads for Governor's Desk. The House today approved Senate Bill 242, which authorizes the creation of pilot program to establish needle exchange programs in Miami-Dade County. The bill now heads to the desk of Gov. Rick Scott (R).
International
INCB Rejects War on Drugs. In its
released today, the International Narcotics Control Board criticized militaristic approaches toward drugs and said excessive punishments of drug users run counter to UN treaties. "As the Board has stated on numerous occasions, the international drug control conventions do not require the incarceration of drug users," wrote the 13 medical and legal experts who make up the board. "The conventions never called for a war on drugs," added INCB President Werner Sipp.