There's good and bad news on hemp today, a new Rhode Island marijuana legalization bill is filed, San Antonio moves toward the first legal needle exchange in Texas, and more.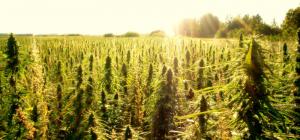 Marijuana Policy
Rhode Island Marijuana Legalization Bill Introduced. Sen. Joshua Miller (D-Providence) Thursday filed a bill to tax and regulate marijuana. He's been introducing similar bills since 2014. The bill would tax pot at 10% in addition to the state's 7% sales tax, as well as allowing up to another 3% in local taxes. Adults could possess up to an ounce and grow up to two plants. The bill is not yet available on the legislative web site.
Hemp
House Republicans Block Votes on Hemp Amendments. The House Republican leadership has blocked several proposed industrial hemp amendments from being considered on the House floor. Proponents had hoped to add the amendments to the farm bill now under consideration, but the House Rules Committee put the kibosh on that. Chairman Rep. Pete Sessions (R-TX) has a reputation for blocking marijuana-related measures, and he just upheld it again.
Arizona Governor Signs Hemp Bill. Gov. Doug Ducey (R) has signed into law Senate Bill 1098, which will create a state pilot program allowing the study and cultivation of industrial hemp. Growing, processing, and transporting hemp will require permits from the state Department of Agriculture.
Indiana Lawmakers Will Study Hemp -- Not Medical Marijuana -- This Summer. An interim legislative committee will spend the summer considering the legalization of hemp, but the panel "will not look into issues related to medical marijuana."
Harm Reduction
Ithaca Mayor Calls on New York Governor to Approve Safe Injection SitesThere. Mayor Svante Myrick (D) has asked Gov. Andrew Cuomo (D) to approve a safe injection site in Ithaca. The move comes after New York City announced a plan for four safe injection sites there. "The overdose crisis is statewide and the pilot intervention should be too," Myrick wrote to Cuomo. "This epidemic is also a rural epidemic and our solutions will need to address that reality. Start with Ithaca." The Ithaca Municipal Drug Policy Committee recommended in February 2016 that a supervised consumption pilot program should be implemented in Ithaca.
San Antonio Could Become First Legal Needle Exchange Site in Texas. A decade after a local prosecutor arrested three volunteers for a clean needle program, city officials are set to sing a different tune. Next week, city and county officials, health care providers, drug treatment providers, law enforcement, and nonprofits will meet to discuss how to make San Antonio the first city in the state to have a legal needle exchange program. Stay tuned.
Law Enforcement
Justice Department to Add More Than 300 New Prosecutors. DOJ announced Thursday that it is creating 311 new assistant US attorney positions, the largest increase in prosecutors in decades. More than half will focus on violent crime, 86 on civil enforcement, and 35 on immigration-related crime. Most of the new positions in civil enforcement will be focused on his department's newly created task force targeting opioids. "Under President Trump's strong leadership, the Department of Justice is going on offense against violent crime, illegal immigration, and the opioid crisis -- and today we are sending in reinforcements," Attorney Geneal Sessions said in a statement.
International
Thai Interim Cabinet Approves Medical Marijuana, Decriminalizes Hemp, Kratom, Opium. The interim cabinet has approved a bill that would allow the use of marijuana for medical reasons, as well as decriminalizing the consumption of hemp, kratom, and opium. "The approval of this bill is an important matter," government spokesman Sansern Kaewkamnerd said. "Class 5 narcotics were allowed for cultivation and extraction… but not for consumption, which made it impossible to use them for research on humans. The bill now goes before the interim assembly.