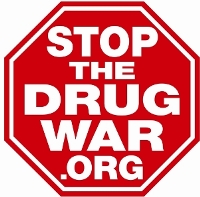 Ending prohibition is only phase one.
The drug has the potential to be tremendously disruptive of the traditional illicit drug market and smuggling structures.
Trumps's Justice Department makes it possible.
An amendment protecting medical marijuana in states where it is legal has made it into the House's Justice Department appropriations bill, Illinois legislators approve medical marijuana in schools, the Utah initiative campaign is turning into a pitched battle, and more.
A Border Patrol agent goes to prison for helping pot smugglers, an NYPD cop gets nailed for agreeing to transport drugs for cash, a Florida crime scene tech gets busted stealing drugs from dead people, and more.
There's good and bad news on hemp today, a new Rhode Island marijuana legalization bill is filed, San Antonio moves toward the first legal needle exchange in Texas, and more.
Michigan legalization initiative foes urge the legislature to legalize it, an Ohio legalization initiative can begin signature gathering, a federal drug treatment bill exclusively targeting opioids advances, and more.
There's too much weed in Oregon, Utah medical marijuana foes try another tack to block the initiative, Africa gets its first medical marijuana dispensary, and more.
New York Mayor Bill de Blasio wants to see an end to public pot smoking arrests, Utah medical marijuana supporters are fending off a court challenge, the "Philippine disease" appears to be spreading to Bangladesh, Afganistan sees a bumper poppy crop, and more.
A solid majority of New Mexicans support marijuana legalization, the House passes a limited prison -- but not sentencing -- reform bill, an Open Society Foundations report calling for increased opportunities for legal coca sales in Colombia, and more.
Permission to Reprint:
This issue of Drug War Chronicle is licensed under a modified
Creative Commons Attribution license
. Articles of a purely educational nature in Drug War Chronicle appear courtesy of DRCNet Foundation, unless otherwise noted.