In the face of the continuing overdose crisis and the regressive resort to punitive drug war tactics such as drug-induced homicide laws to combat it, a group of friends and family members of drug users, including many who have lost loved ones to drug overdoses, is calling on Congress to stand firm against looking to more criminalization and prosecution as a solution.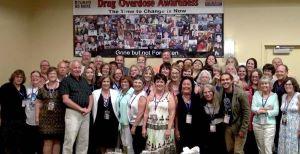 In collaboration with the Drug Policy Alliance, the group,
Broken No More
, last week sent an
open letter
to lawmakers urging them to oppose more failed drug war policies and instead embrace evidence-based health responses proven to save lives and prevent other families from suffering the loss of loved ones.
"Opportunistic politicians supported by law enforcement are using the overdose crisis and parents' grief to pass harsh drug laws that will only continue to fill our morgues and prisons," the open letter says. "Punitive laws will not bring our loved ones back, but they will subject other parents' children to more suffering and deny them the support that can keep them alive."
The group makes concrete demands of Congress about what it does and does not want. It says "no more" to drug-induced homicide laws, new mandatory minimum sentencing laws, or new laws increasing penalties for the possession of personal use amounts of illicit drugs.
Instead, it calls for "health-based solutions focused on overdose prevention, harm reduction, and drug treatment," including drug decriminalization (with the savings invested in addiction services and social supports), the panoply of harm reduction measures from needle exchanges and drug checking to safe injection sites, effective voluntary drug treatment options (including access on demand for opioid disorder medications buprenorphine and methadone, "reality based drug education," and removing civil punishments for drug use (in food, housing, and employment).
"As a mother who lost her 16-year-old son to overdose, I strongly oppose imposing harsher penalties for those involved in drug-related deaths," said Tamara Olt, MD, executive director of Broken No More. "It is enough that one family has been devastated by the loss of their loved one. It is cruel and unjust for a second family to lose their child to incarceration and the laws will increase deaths by making people afraid to get help for someone experiencing an overdose. I support a health-based approach, harm reduction, and safer supply to cease the senseless and preventable overdose deaths that are increasing exponentially. No one is disposable."
"I lost my son, my only child, Jeff, to an overdose. But he didn't have to die. There were two people with Jeff that day, one of whom had sold him the heroin he used. They could have called for help but, instead, they pulled him from the SUV and left him on a lawn. And while people will say that they were monsters, they weren't. The monster was fear. Fear of the police. Fear of arrest. Fear of spending 20 years to life in prison. It was fear that killed my son," said Denise Cullen, LCSW, co-founder of Broken No More. "Criminalization and punitive drug laws have resulted in nothing but more imprisonment, more deaths, and more devastated families. We must, instead, invest in health-based solutions that will save the lives of the ones we love. Laws that charge people with murder for a drug-related death may sound like a good idea. Until that is, it's your child that dies on a lawn."
"We stand behind the families who are bravely fighting for the right policy solutions so that no one else has to go through the heartbreak and pain they have experienced. Their voices are abundantly clear that the best way to address the overdose crisis is through continued investment in public health resources and services rather than doubling down on the deeply flawed, unjust, and failed punitive approaches of the past," said Emily Kaltenbach, senior director of state advocacy and criminal legal reform at the Drug Policy Alliance. "Turning to health solutions instead of punishment is the right way forward. People all across the country are looking for answers to the problems of public safety, mass criminalization, racist policing, addiction, overdose, and homelessness. But we know that punishing people for possessing drugs for personal use is not the answer to these issues."
For a complete list of signatories go here. Other parents and family members who have lost loved ones can sign the letter here.