Michael Bloomberg goes as far as calling for marijuana decriminalization, a Georgia bill would let police anyone for possession of green leafy substances even if they can't say whether it's hemp or marijuana, and more.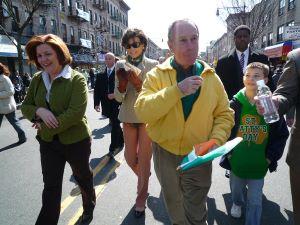 Marijuana Policy
Michael Bloomberg Calls for Marijuana Decriminalization. Former New York City mayor and billionaire Democratic presidential candidate Michael Bloomberg formalized his approach to marijuana Tuesday, calling for decriminalization as part of a broader criminal justice platform. But his one-paragraph policy is short on details. It says he would decriminalize "small amounts" of weed and commute sentences for certain convictions. It also says legalization should be left up to the states "for the moment."
Connecticut Clergy Rally for Marijuana Legalization. Local clergy spoke Tuesday in support of Gov. Ned Lamont's (D) push to legalize marijuana at a press conference organized by the Connecticut Coalition to Regulate Marijuana. Prominent leaders such as the Rev. Charlie L. Stallworth of the East End Baptist Tabernacle Church in Bridgeport and the Rev. Edwin Pérez of the United Church of Christ in West Hartford were joined by the Rev. Alexander Sharp of Illinois, executive director of national reform group Clergy for a New Drug Policy, who said legalization would reduce needless arrests and "provide jobs in communities ravaged by the failed war on drugs."
Georgia Bill Would Allow Police to Make Arrests for Hemp or Marijuana. A bill that would let police arrest people for possession of small amounts of green, leafy substances even if they can't tell whether it's legal hemp or illegal marijuana has passed the House Agriculture Committee and is now headed for a House floor vote. The measure, House Bill 847, is an attempt to allow police to enforce marijuana laws after the federal and state governments legalized hemp. But Mazie Lynn Causey, a lobbyist for the Georgia Association of Criminal Defense Lawyers, said if police wanted to enforce marijuana laws, they needed to prove the substance in question was indeed marijuana. "What's happening here is the criminalizing of a legal substance," Causey said. "What this bill does is it treats hemp as marijuana for the purposes of prosecution."
Pennsylvania Marijuana Legalization Bill Filed. Rep. Jake Wheatley (D-Allegheny County) has filed another marijuana legalization bill, House Bill 2050 (not yet available on the legislative website). He says it's an improved version of a bill that he filed last year. That bill didn't move, and this one isn't likely to, either. It's headed to the House Health Committee, chaired by Rep. Kathy Rapp (R-Warren), who opposes legalization and says she has no plans to move this bill in committee, either.
Medical Marijuana
Arizona Lawmakers Seek 2% THC Cap for Medical Marijuana. Fifteen House Republicans have cosponsored a bill, HCR 2045, that would amend the state's medical marijuana program by putting a 2% THC limit on medical marijuana. Currently, there is no limit on THC. The measure would also provide grants from the state's medical marijuana fund to conduct research on the relationship between marijuana and violence and marijuana and schizophrenia.
New Mexico Legislature Passes Bill to End Limit Patient Enrollment to State Residents. A bill that would bar out-of-state people from enrolling the state's medical marijuana program has passed out of the legislature and is headed to the desk of Gov. Michelle Grisham Lujan (D), who has said she supports it. State officials said they feared allowing out-of-state enrollment could lead to federal interference in the program. Bill supporters said the state's reciprocity program would allow residents of other states that allowed medical marijuana to participate, but the state hasn't even set the rules for reciprocity yet. They are due by March 1. There are currently more than 600 non-New Mexico residents enrolled in the program.
(This article was prepared by StoptheDrugWar.org's 501(c)(4) lobbying nonprofit, the Drug Reform Coordination Network, which also pays the cost of maintaining this website. DRCNet Foundation takes no positions on candidates for public office, in compliance with section 501(c)(3) of the Internal Revenue Code and does not pay for reporting that could be interpreted or misinterpreted as doing so.)