Hace una década, los electores en Arizona aprobaron una iniciativa innovadora, la Proposición 200, "La Ley de Medicalización, Prevención y Control de las Drogas de 1996" [The Drug Medicalization, Prevention, and Control Act of 1996], que impediría a los jueces de enviar a infractores primarios o secundarios por tenencia de drogas a la prisión. Pero, ahora, la legislatura de Arizona, preocupada con la droga demoníaca del día, quiere tratar a aquellos condenados por tenencia de metanfetamina distintamente – ser mandados a la cárcel o a la prisión en vez de recibir régimen de libertad vigilada y tribunal de drogas.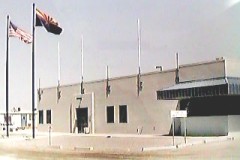 En la votación de Noviembre está la
Proposición 301
, una iniciativa auspiciada no por los electores, sino por la legislatura estadual. Si los legisladores de Arizona quisieran ir a público para deshacer parcialmente la Prop. 200, ellos podían haber votado en su enmienda. En vez de eso, ellos redactaron esta proposición y dejaron que los electores lo decidieran.
"La metanfetamina es altamente adictiva y destructiva", escribió el Fiscal de la Comarca de Maricopa (Phoenix), Andrew Thomas, en un argumento electoral a favor de la medida. "Hay una fuerte relación entre el abuso de metanfetamina y el robo de identidad. Phoenix tiene el segundo índice más alto de abuso de metanfetamina de todas las ciudades del país, como evidenciado por los exámenes toxicológicos realizados en los arrestados... Esta proposición cambiará la ley para que las personas presas por tenencia de metanfetamina puedan ser sentenciadas a la cárcel o a la prisión después de sus primeras condenaciones por tenencia de drogas. Actualmente, los usuarios de metanfetamina pueden ser encarcelados solamente después de su segunda o tercera condenación por tenencia de drogas, o si ellos se rehúsan a participar del tratamiento. El tiempo en la cárcel es frecuentemente la única cosa que le ofrece a los adictos a la metanfetamina un ambiente seguro y libre de las drogas y una oportunidad para reflexionar sobre su situación".
La Proposición 301 destaca a los infractores de la legislación antimetanfetamina para tratamiento especial, y lo hace con base en un texto electoral equívoco – texto que sobrevivió a un desafío judicial no por mérito propio, sino porque el desafío ocurrió demasiado tarde. En el análisis de la iniciativa hecho por el Consejo Legislativo de Arizona, el cual es parte del proceso, el consejo le informa a los electores que: "Este cambio en la ley permitirá que los jueces usen una sentencia de cárcel como condición de libertad vigilada para forzar a los usuarios de metanfetamina a obedecer el tratamiento y rehabilitación químicos ordenados por la corte".
El texto es equívoco, a lo mejor. Aunque de acuerdo con la ley actual, los jueces no puedan sentenciar a las personas a la cárcel o a la prisión por infracciones primarias o secundarias de la legislación antidroga, pueden ponerlas en libertad vigilada y mandarlas a la cárcel por infringirla, como en caso de inobservancia a los programas de tratamiento químico ordenados por el tribunal, por ejemplo".
"Su punto de vista es el de que esto es simplemente una herramienta para forzar a la gente a permanecer en el tratamiento", dijo Caroline Isaacs de Meth Free Arizona – "No" en 303. "Eso contradice completamente al texto real del proyecto", le dijo ella al Tucson Weekly la semana pasada. "Todos están preocupados con el tamaño del consumo de metanfetamina en nuestra comunidad. Pero, la Proposición 301 nos llevaría exactamente en la dirección equivocada, en términos de tratar de nuestro problema de metanfetamina. Decir que la solución no es proporcionar tratamiento a la gente es hacer las cosas absolutamente al revés".
No son apenas activistas como Isaacs que se oponen a la medida. La Jueza del Tribunal Superior de la Comarca de Pima, Barbara Sattler, que preside el programa de tribunal de drogas de la comarca, le dijo al Weekly que "hay muchos malentendidos en lo tocante a la Proposición 301... Es verdad que los infractores primarios y secundarios que tengan pequeñas cantidades de drogas (ya sea metanfetamina, cocaína, heroína etc.) no pueden ser inicialmente mandados a la prisión o a la cárcel. Con todo, si ellos infringen las órdenes de tratamiento o son arrestados por otros crímenes o delitos de drogas, pueden ser enviados a la cárcel o a la prisión. Los infractores secundarios pueden recibir una sentencia de prisión directamente como condición para la libertad vigilada (pese a que, más una vez, ellos no pueden ir a la prisión directamente). Infringir una orden de tratamiento significa no dar examen toxicológico, sacar positivo para drogas o no comparecer al tratamiento o al asesoramiento o no vivir en un abrigo de apoyo a los consumidores de drogas", escribió la Jueza Sattler. "También se puede ir a la cárcel o a la prisión si se rechaza el régimen de libertad vigilada o en caso de rechazo del tratamiento químico".
Una victoria para la Proposición 301 sería un desastre, escribió la Jueza Sattler. "Prender a las personas las mantiene fuera de circulación, pero cuando salen, si no han tenido tratamiento, empezarán a usarla nuevamente. Si esta proposición es aprobada, costará a los contribuyentes montones de dinero y llenará las prisiones de adictos no-violentos. Aunque haya algún tratamiento químico, en la cárcel o en la prisión, es mínimo y está disponible apenas para un pequeño porcentaje de los presos".
"Yo creo que el proyecto es muy limitado al objetivar solamente la metanfetamina", prosiguió ella. "Aunque la metanfetamina sea seguramente una droga horrible y altamente adictiva, los adictos pueden ser tratados. Los tribunales de drogas y otros programas han tenido éxito. En el pasado, otras drogas como la heroína y el crack eran la 'metanfetamina' de sus épocas. La solución no es objetivar una droga. En algunos años, habrá una nueva droga que reemplazará la metanfetamina".