El Comité de Ciencia y Tecnología del Parlamento Británico lanzó el lunes un informe que acaba con el esquema actual de clasificación de las drogas de Gran Bretaña como "opaco" y pide que sea reemplazado por un sistema que esté basado en pruebas científicas y refleje precisamente el perjuicio real a los usuarios de drogas y la sociedad. El sistema actual "no es adecuado a su propósito", decidió el informe chamuscante.
Según el sistema actual, las drogas son clasificadas como Clase A (heroína, cocaína), B (metanfetamina) o C (marihuana, anabolizantes), siendo que las drogas de Clase A son consideradas las más nocivas y las de la Clase C son las drogas consideradas menos nocivas. Las drogas de Clase A acarrean una sentencia de siete años de prisión por tenencia, las de la Clase B cinco años y las de la Clase C dos años. Las ventas de las drogas de la Clase A pueden granjear hasta una sentencia de prisión perpetua, en tanto que las ventas de drogas de las Clases B y C pueden acarrear hasta 14 años. El Ministro británico del Interior es acusado de decidir cuáles drogas entran en aquellas clases en el esquema de clasificación con base en pruebas presentadas por los consejeros, que deben ponderar los problemas causados por varias drogas y clasificarlas de acuerdo con eso.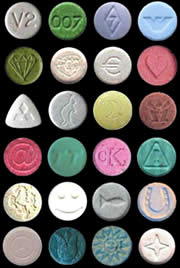 No ha sido así, concluyó el comité en su informe, aptamente intitulado "
Drug Clasification: Making a Hash Of It?
" [La Clasificación de las Drogas: ¿Haciendo un Estropicio de Ella?]. "Hubo una falta de consistencia en la manera que algunas drogas eran clasificadas en el sistema A, B y C y no había ninguna prueba sólida para respaldar el punto de vista de que la clasificación tenía un efecto disuasivo", observó secamente el comité mientras lanzaba sus hallazgos. "El Comité también fue crítico del
Consejo Accesorio contra el Abuso de Drogas
(ACMD), el cuerpo científico accesorio más importante en las políticas de drogas, llamando su fracaso de alertar el Ministro del Interior sobre los grandes defectos en el sistema de clasificación de un 'no-cumplimiento de su deber'".
Señalando la reciente revisión del rebajamiento de la marihuana de la Clase B para la Clase C en 2004 contra una batida firme de desespero de los tabloides por sus supuestos peligros, el comité se quejó que tales revisiones dieron la impresión de ser "respuestas reflejas a las tempestades en los medios". El comité también fustigó al Ministerio del Interior y el ACMD por no demostrar que el sistema actual de clasificación es eficaz y por no invertir en la pesquisa sobre la adicción.
"El sistema actual de clasificación está lleno de anomalías y claramente no es adecuado a su propósito", dijo el presidente del comité, el Parlamentario Phil Willis, en una declaración que acompañó al lanzamiento del informe. "Por lo que hemos visto, el abordaje del Ministerio del Interior y del ACMD a la clasificación parece haber estado basado en particularidades y conservadurismo. Es obvio que hay una necesidad urgente de una revisión total del sistema de clasificación, como prometido por el Ministro del Interior anterior. Todos nosotros sabemos que el actual Ministro del Interior está ocupado con otras cosas, pero eso no es pretexto para intentar ignorar esta cuestión".
Si Gran Bretaña quiere un sistema racional de clasificación de las drogas que funcione, dijo Willis, debe olvidarse de usarlo para castigar a las personas por usar drogas que el gobierno no gusta. "La única manera de conseguir un sistema preciso y actualizado de clasificación es quitar el enlace con las penas y concentrarse solamente en el perjuicio. Ése debe ser no apenas el daño al usuario, sino el daño definido por las consecuencias sociales también", explicó el presidente del comité. "Ya es hora de incluir un abordaje más sistemático y científico a la clasificación de las drogas - ¿cómo podemos informar a los jóvenes si lo que decimos no está basado en pruebas?"
El informe también pide la inclusión del alcohol y el tabaco en cualquier nuevo esquema de clasificación de las drogas y sugestiona que deban ser clasificados como drogas más peligrosas que el éxtasis. También atacó a la clasificación de diversas drogas de parte del gobierno. Con los hongos psicodélicos, el gobierno los reclasificó administrativamente como drogas peligrosas de Clase A, evitando así la consulta con el ACMD. Esa pasada "trasgredió el espíritu de la Ley de Abuso de Drogas [Misuse of Drugs Act] y no dio al ACMD la oportunidad de ponderar las pruebas apropiadamente".
El informe del comité criticó al ACMD por no pronunciarse sobre la cuestión de los hongos, diciendo que no pronunciarse ha "socavado su credibilidad". El informe también reprendió el ACMD por nunca ponerse a revisar el estatus del éxtasis, el cual malclasifica actualmente junto con las drogas más peligrosas y nocivas.
El DrugScope, el importante instituto británico de consultoría en políticas de drogas, dio las bienvenidas al pedido del comité de reevaluación del sistema de clasificación. "La Ley de Abuso de Drogas ya tiene más de 30 años y la escena de drogas en el Reino Unido ha cambiado hasta ponerse irreconocible desde entonces", dijo el director de DrugScope, Martin Barnes, en una declaración saludando el lanzamiento del informe. "También es verdad que algunas de las decisiones acerca de poner ciertas drogas dentro de la Ley, como el éxtasis y los hongos frescos, no soportan mucho escrutinio científico. Es importante que la Ley adecue más precisamente las sanciones penales al riesgo total de las drogas a la sociedad. Dicha revisión fue prometida por el Ministerio del Interior en Enero, pero no hemos escuchado nada sobre ello desde entonces", regañó Barnes.
Pero el DrugScope rechazó algunas de las críticas hechas contra el ACMD en el informe. "Puede ser que el ACMD pudiera haber sido más proactivo respecto de la clasificación de las drogas, pero sus muchos informes han ayudado a moldar el sistema de tratamiento químico en el Reino Unido", dijo Barnes. "En particular, su recomendación sobre la oferta de agujas y jeringas a los consumidores de heroína en los años 1980 puede haber salvado el Reino Unido de una enorme epidemia de VIH/SIDA".
La Rethink, una importante organización de la salud mental, usó la emisión del informe para clamar por más informaciones sobre las relaciones entre la marihuana y la enfermedad mental. El Director de Relaciones Públicas de Rethink, Paul Corry, dijo: "En cualquier debate sobre la clasificación del cannabis, la principal preocupación de la Rethink es la de que el gobierno haga promesas de concienciar el público acerca de los riesgos a la salud mental del consumo de cannabis", dijo en una declaración el lunes. "La Rethink está preocupada con la falta de progreso respecto de esta cuestión crítica de salud pública. Sabemos que los usuarios jóvenes, los usuarios de largo tiempo y las personas con antecedentes familiares de salud mental también tienen un alto riesgo de desarrollar psicosis del fumo de cannabis - el problema es que ellos no lo saben porque el gobierno no ha cumplido su promesa", debatió Corry.
El grupo británico de reforma, la Fundación Transform Drug Policy, también emitió una declaración dando las bienvenidas al informe. "La Transform saluda el hecho de que el comité haya aceptado la crítica general del sistema de clasificación en vez de meterse en un debate sin sentido sobre por qué cada droga está en determinada clase", dijo el funcionario de información de la Transform, Steve Rolles. "La cuestión más importante en juego aquí es la de que todo el sistema de clasificación está basado en la ideología de la guerra a las drogas, no tiene ninguna base científica y hace lo contrario de lo que pretende hacer. Gustaríamos de ver esto como un preludio a una inquisición más considerable de la base de pruebas para la penalización de las drogas de por sí".
Rolles también hico eco de los pedidos de acción de parte del Ministro del Interior. "También esperamos que el Ministerio del Interior reanude ahora su consulta acerca de la clasificación de las drogas anunciada por el entonces Ministro del Interior, Charles Clarke, a principios de este año, como recomendado específicamente por el comité", dijo. "El documento de consulta estaba listo para ser publicado, pero parece haber sido ignorado por el nuevo Ministro del Interior. La crítica decreciente del Comité Selecto vuelve esta consulta prometida del Ministerio del Interior mucho más urgente".
Los tories están usando el informe para golpear las políticas de drogas del Partido Laborista y asumir la pancarta del "peligro de la marihuana". El Subsecretario del Interior, Edward Garnier, lanzó rápidamente una declaración que buscaba ventaja política. "Estudiaremos el Informe del Comité Selecto minuciosamente, pero lo que es y ha sido aparente durante algún tiempo es la falta de clareza en las políticas de este gobierno contra las drogas ilegales", acusó Garnier. "El rebajamiento del cannabis envió el mensaje de que ello era bien inofensivo y habrá alentado a los jóvenes a usarlo. Es vital que tomemos medidas fuertes y eficaces advirtiendo a los niños sobre los peligros de las drogas sin ninguna confusión".
Hasta ahora, el Partido Laborista se ha quedado quieto, pero el Parlamentario Laborista Paul Flynn, le dijo a la DRCNet que él halló el informe del comité un paliativo útil para la politización de las políticas de drogas. "Categorizar las drogas en 1971 significaba ser la bala de plata para cortar el consumo de drogas. En aquel momento, había 1.000 adictos; ahora, hay 280.000", observó. "Pero, todos los partidos políticos aún se agarran a esta bala votando en 2005 en favor de la locura que clasificaba los hongos juntamente con la heroína y dejaba el alcohol y la nicotina fuera de la clasificación. Gracias al comité de ciencia por un soplo de cordura".
Con la publicación del informe del comité, Gran Bretaña avanzó un paso hacia el sistema racional y probado de clasificación de las drogas. El sistema estadounidense de clasificación de las drogas es similarmente irracional, poniendo, por ejemplo, la marihuana y el LSD en la misma categoría que la heroína, pero no hay ninguna señal de cualquier abordaje científico así por aquí.
.