The Michigan Supreme Court has cleared the way -- finally -- for Detroiters to vote on a marijuana legalization initiative. The high court Friday refused to hear an expedited appeal of a February appeals court ruling that Detroit election officials had acted improperly when they blocked the measure from getting on the ballot.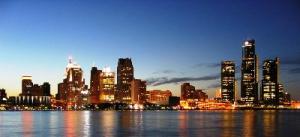 That means Detroit residents can expect to see the initiative on the August 7 primary ballot. The
initiative
, sponsored by the
Coalition for a Safer Detroit
, would legalize the possession of up to an ounce of marijuana by adults 21 and over by amending the city's controlled substances ordinance to say that it does not apply to small-time pot possession by adults.
Although initiative supporters had cleared all the legal hurtles to making the ballot back in 2010, the measure was opposed by the Detroit City Council, especially Council President Charles Pugh, who also serves as chairman of the Detroit Election Commission. The commission voted 3-0 to block the measure from appearing on the city ballot.
But initiative advocates were undeterred and persevered in pursuing the matter through the courts. Now, with the Supreme Court rejecting the city's motion for immediate consideration of its appeal, they have prevailed.
"A long trail of voter abuse by the City of Detroit has come to an end," said the Coalition's Tim Beck, in an e-mail to supporters. "We got everything right. Our petitions were flawless," said Beck.
Detroit Mayor Bing had no comment Friday evening, but a Detroit police spokesman told the
Detroit Free Press
the department could adapt to legalization "if it's handled in an appropriate way, and this is what the citizens of Detroit choose."
That's a remarkably open-minded and democratic statement from Detroit police, especially when compared to law enforcement reactions elsewhere to legalization, lowest law enforcement priority, and medical marijuana votes. It will be up to the voters of Detroit to ensure that the department lives up to its word.