by psmith, April 11, 2012, 02:58pm, (Issue #729)
In just a couple of days, President Obama will fly to Cartagena, Colombia, to attend this weekend's Organization of American States (OAS) Sixth Summit of the Americas. He and the US delegation are going to get an earful of criticism of US drug policies from Latin American leaders, and that makes it an historic occasion. For the first time, alternatives to drug prohibition are going to be on the agenda at a gathering of hemispheric heads of state.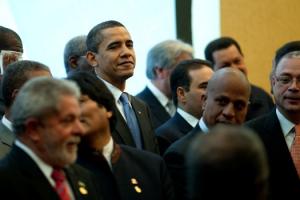 It's been building for some time now. More than a decade ago, Uruguayan President Jorge Batlle became the first Latin American sitting head of state to call for a discussion of drug legalization. Former Mexican President Vicente Fox joined the call, albeit only briefly while still in office through some media quotes, much more frequently after leaving office in 2006. Honduran President Manuel Zelaya issued a similar call in 2008, but didn't move on it before being overthrown in a coup the following year.
Meanwhile, drug prohibition-related violence in Mexico exploded in the years since President Felipe Calderon called out the army after taking office in December 2006. As the savagery of the multi-sided Mexican drug wars intensified and the death toll accelerated, surpassing 50,000 by the end of last year, the call for another path grew ever louder and more insistent.
In 2009, a group of very prominent Latin American political leaders and public intellectuals led by former Brazilian President Henrique Cardoso, former Colombian President Cesar Gaviria, and former Mexican President Ernesto Zedillo formed the
Latin American Commission on Drugs and Democracy
, calling for a fundamental reexamination of drug policy in the hemisphere and a discussion of alternatives, including decriminalization and regulation of black markets. That was followed last year by the
Global Commission on Drug Policy
, which includes the Latin American ex-presidents, as well as former Switzerland President Ruth Dreiffus and other prominent citizens such as Richard Branson and former UN Secretary General Kofi Annan, echoing the Latin American Commission's call for reform.
As the commissions issued their reports, the violence in Mexico not only worsened, it spread south into Central America, where governments were weaker, poverty more endemic, and violent street gangs already well-entrenched. Guatemala, Honduras, and El Salvador, in particular, saw homicide rates soar in recent years, well beyond Mexico's, as the Mexican cartels moved into the region, a key transit point on the cocaine trail from South America to the insatiable consumers of the north.
Colombian President Juan Manuel Santos, the secretary of defense under his predecessor, Alvaro Uribe, and a man who knows well just what a sustained war on drugs can and cannot achieve, has been among the latest to pick up the torch of drug reform. Santos has made repeated statements in favor of putting alternatives to prohibition on the table, although he has been careful to say Colombia doesn't want to go it alone, and now he has been joined by another unlikely reformer, Guatemalan President Otto Perez Molina, a rightist former general who campaigned on a tough on crime agenda.
It is Perez Molina who has been most active in recent weeks, calling for a Central American summit last month to discuss alternatives to drug prohibition ranging from decriminalization to regulated drug transit corridors to charging the US a "tax" on seized drugs. That summit saw two of his regional colleagues attend, Costa Rican President Laura Chinchilla and Panamian President Ricardo Martinelli, but no consensus was achieved, no declaration was issued, and three other regional leaders declined to show up. But that summit, too, was a first -- the first time Latin American leaders met specifically to discuss regional drug law reform.
All of this has not gone unnoticed by policymakers in Washington. Vice-President Biden, Homeland Security Secretary Napolitano, State Department functionaries and US military brass have all been flying south this year, reluctantly conceding that drug legalization may be a legitimate topic of debate, but that the US is having none of it.
"It's worth discussing," Biden told reporters in Mexico City last month. "But there's no possibility the Obama-Biden administration will change its policy on legalization. There are more problems with legalization than non-legalization."
But along with discussing an end to prohibition, the Latin Americans have also offered up proposals between the polar opposites of prohibition and legalization. Options discussed have included decriminalization of drug possession and marijuana legalization to different approaches to combating the drug trade to maintaining addicts with a regulated drug supply. In Colombia, Santos has sponsored legislation to decriminalize possession of "personal dose" quantities of drugs, restoring a policy mandated by the country's Constitutional Court but undone by a constitutional amendment under President Uribe.
And it's not just Latin American political leaders. The calls for change at the top are reflected in a civil society movement for drug reform that has been quietly percolating for years. In fact, an international, but mainly Latin American, group of non-governmental organizations this week issued an
Open Letter to the Presidents of the Americas
calling for decriminalizing drug use and possession, alternatives to incarceration for non-serious drug offenses, a regulated market for marijuana, a public health approach to problematic drug use, alternative development, respect for traditional uses, and a more focused war on organized crime that is less broadly repressive than current models. In Mexico, a
social movement led by poet Javier Sicilia
, whose son fell victim to cartel violence, has called for an end to the violence and pressed Preident Calderon on drug reform.
After decades of US-imposed drug war, from US military operations in Bolivia in the 1980s to the multi-billion dollar Plan Colombia, with its counterinsurgency and aerial herbicide spraying, to the blood-stained Mexican border towns and the drug gang-ridden slums of Rio de Janeiro, Latin America is growing increasingly ready to strike out on a different path.
That's what awaits President Obama and the US delegation in Cartagena. The most vibrant discussions may well take place in hallways or behind closed doors, but the US is now faced with yawning cracks in its decades-long drug war consensus.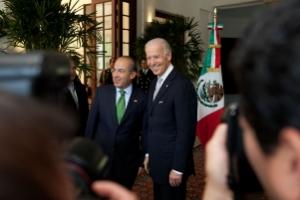 "It's very clear that we may be reaching a point of critical mass where a sufficient number of people are raising the questions of why not dialog on this issue, why not discuss it, why peremptorily dismiss it, why does the president laugh when the subject of drugs is brought up, is he so archly political that it becomes a sort of diabolical act to seriously discuss it, why isn't some new direction being ventured forth?" said Larry Birns, executive director of the
Council on Hemispheric Affairs
.
"It seems the public is approaching the point where it has become credible to say quite frankly that the drug war hasn't worked. The real menace to society is not so much legalization but the failure to confront the hard fact that after decades of effort and hundreds of billions of dollars, a successful prohibition strategy has not been created, nor is there any likelihood of it being created," he said.
"This is the first major gathering of heads of state at which alternatives to prohibitionist drug control policies, including decriminalization and legal regulation of currently illegal drugs, will be on the agenda," said Ethan Nadelmann, head of the
Drug Policy Alliance
. "Arguments that were articulated just five years ago primarily by intellectuals and activists, and three years ago by former presidents, are now being advanced, with growing sophistication and nuance, by current presidents. There is now, for the first time, a critical mass of support in the Americas that ensures that this burgeoning debate will no longer be suppressed."
"A lot of countries don't want to do the US's dirty work anymore -- enforcing the prohibitionist policies that are unenforceable and hypocritical," said Laura Carlson, director for Latin America rights and security in the Americas program at the
Center for International Policy
. "Everybody knows that it's impossible to wipe out the illicit drug business without making it legal, and most people know that the efforts aimed at ostensibly doing that are not 100% honest and certainly not effective. Many Latin American countries don't want the degree of US intervention in their national security that the drug war entails either," she noted.
"Having said that, the US government is determined to put down any talk of alternatives and particularly alternatives that begin with regulation rather than prohibition. The recent visits of Napolitano, Biden, [US State Department Assistant Secretary for the Bureau of International Narcotics and Law Enforcement Affairs William] Brownfield and the military leaders all carried that message," the Mexico City-based analyst continued. "Small and dependent countries -- El Salvador is the example here, after reversing its position on legalization -- are afraid to stand up to the US on this, and progressive countries don't seem to want to get involved, both because they find the issue a political hot potato and because they are focusing efforts on strengthening alternative organizations to the OAS."
"I think the US strategy of Brownfield and the State Department will be to say that legalization was brought up and rejected by the Latin American leaders," offered Sanho Tree, director of the
Drug Policy Project at the Institute for Policy Studies
. "They will use dichotomous rhetoric, they will try to maneuver the discussion into either prohibition or heroin in vending machines, but this is about the whole spectrum of regulatory possibilities. That's what we need to be talking about instead of that false dichotomy."
Still, to even deign to discuss policy alternatives to prohibition is a notable step forward for the US, even if it is only to dismiss them, Nadelmann argued.
"The shift in the public posture of the US government -- from rejecting any discussion of legalization to acknowledging that 'it is a legitimate subject of debate' -- is significant, notwithstanding the clear caveat by the Obama administration that it remains firmly opposed to the notion," he noted. "That said, it is safe to assume that the US government will do all it can to suppress, ignore, distort and otherwise derail the emerging dialog. US officials are handicapped, however, by the remarkable failure of government agencies over the past thirty years to contemplate, much less evaluate, alternative drug control strategies. They also must contend with the fact that the United States has rapidly emerged -- at the level of civil society, public opinion and state government -- as a global leader in reform of marijuana policies."
The discussion on drug policy at Cartagena isn't taking place in a vacuum, and there is at least one other issue where the US finds itself at odds with its host and most of the region: Cuba. The US has once again insisted that Cuba not be allowed to attend the summit, and President Santos reluctantly acceded, but the whole affair leaves a sour taste in the mouth of Latin Americans. Ecuadorian President Correa is not coming because of the snub, and the issue only plays into hemispheric discontent with Washington's war on drugs.
"The US won the day in persuading Santos not to invite Cuba," said Birns, "but the political cost of that action is high, and the whole drug issue is twinned to it, not because Castro has an enlightened position on drugs, but because of anti-Americanism in the region. This means Cartagena is the city where a lethal blow against the status quo will be achieved."
"The United States is not going to listen," said Birns, "but this era of non-discussion of drug legalization and refusal to countenance the possibility of dialog on the issue may be coming to an end. More and more people who aren't known as drug reform crusaders are coming forth and saying it's not working, that we need another approach, and that's probably decriminalization and legalization. We're very much closer to liberation on this issue than we've ever been before."
"Liberation" may now be within sight, but diplomatic dissent is not yet close to being translated into paradigmatic policy shifts. Whatever discussion does take place in Cartagena this weekend, don't expect any official breakthroughs or even declarations, said Carlson.
"I am not optimistic about there being any formal commitment, or perhaps even mention, of legalization per se," she said. "The implementation group for the Sixth Summit is already working on the final declaration and it contains a section on 'Citizen Security and Transnational Organized Crime.' I think that as far as it will go is to state that transnational organized crime is a growing problem and that the nations of the Americas agree to work together, blah, blah, blah," she predicted.
"The United States will reiterate its 'shared responsibility' and commitment, but will not mention the need to change a failed model," Carlson said. "There will be more rhetorical emphasis on social programs for 'resilient communities' and especially on police and judicial reform, although the former will not be reflected in what are largely military and police budgets. I think the best we can hope would be a mandate for a policy review and a commitment to continue to discuss alternatives. The specific proposals to legalize transit, to create a regional court for organized crime cases and US payment for interdictions will not likely be resolved."
"This is a long process, not an immediate objective," said Tree. "In Central America, it's going to take a year or two of thoughtful -- not sensational -- media coverage. When people see anarchy, they want order. With a more thoughtful dialog, we can begin to get traction."
"It is too soon to predict that this Summit of the Americas represents any sort of tipping point in global or even regional drug control policy," Nadelmann summed up. "But the odds are good that this gathering will one day be viewed as a pivotal moment in the transformation from the failed global drug prohibition regime of the twentieth century to a new 21st century global drug control regime better grounded in science, health, fiscal prudence and human rights."
We'll see what happens this weekend, but at the very least, the taboo on serious discussion of reforming the drug prohibition regime at the highest levels has been shattered. Look for a report on the summit itself next week.
back to top