At the 2011 International Drug Policy Reform Conference in Los Angeles last weekend, one of the more heart-wrenching sessions focused on the prohibition-related violence in Mexico, where somewhere north of 40,000 people have been killed since Mexican President Felipe Calderon sent in the army to wage war on the cartels in December 2006. A panel of Mexican politicians, activists, and journalists led by poet Javier Sicilia -- and El Paso City Councilwoman Susie Byrd -- examined the roots and consequences of Mexico's war on drugs and called eloquently on Americans to take action to stop the carnage.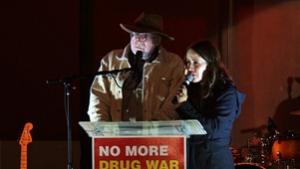 Mexican journalist Diego Osorno, author of a book on the Sinaloa Cartel, explained how Calderon took power amidst mass mobilizations and turmoil after a closely contested election in which his foe refused to accept defeat. "Calderon took power amidst political and social crisis," Osorno explained. "He began the militarization using the pretext of drugs," he said.
The next panelist, former Mexican congressman Victor Quintana of Chihuahua (where Ciudad Juarez is located) looked at what Mexico's drug wars had done to his home state. "In Chihuahua, we had 407 people killed in 2007," he said. "In 2010, that number was 5,200. If the US had the same murder rate, that would be 400,000 dead in one year," he said.
"There has been an authentic genocide committed in our state," Quintana continued. "We have 10,000 drug war orphans and 230,000 people internally displaced. We face not only the violence of organized crime, but the violence of the state."
A report released Wednesday by
Human Rights Watch
makes clear just what Quintana was talking about when it comes to the violence of the state. The 212-page report,
Neither Rights Nor Security: Killings, Torture, and Disappearances in Mexico's "War on Drugs,"
portrays systematic human rights abuses committed by Mexican government forces, including dozens of documented killings.
Human Rights Watch officials visited Mexico this week to deliver copies of the report to Calderon, members of the Mexican Congress, the Supreme Court, and civil society groups.
"Instead of reducing violence, Mexico's 'war on drugs' has resulted in a dramatic increase in killings, torture, and other appalling abuses by security forces, which only make the climate of lawlessness and fear worse in many parts of the country, said José Miguel Vivanco, Americas director for the organization.
Like other panelists at the conference in Los Angeles, Quintana took pains to make clear that Mexico's tragedy was tied to the US and the way we deal with the drugs we love to hate (or hate to love). "This is a bi-national war," he said. "America sends the guns and money, and Mexico gets the deaths."
Prohibition is a godsend to the cartels, said El Paso city councilwoman Byrd, who explained how a pound of marijuana sells for $25 in Mexico's pot-growing areas but $525 in Chicago. "Legalizing marijuana is the best way to take it to the cartels," she said.
Ciudad Juarez is "the epicenter of pain and tragedy, but also the epicenter of resistance," said Zulma Mendez, a bi-national El Paso university professor and Ciudad Juarez activist. The resistance has an agenda calling for demilitarization, justice and truth, and re-founding the city in a more human form, she said.
Zuma, too, called on Americans to act. "The bloodshed here is related to Plan Merida," she said. "US taxpayers are funding this to the tune of $2.5 billion. People in the US should demand an end to Plan Merida. US citizens can demand drug reform and revision of weapons policies and immigration and asylum policies," she challenged.
But it was gruff-voiced, cowboy hat-wearing Javier Sicilia who proved most powerful. A poet and journalist who became the voice of resistance after his son and five others were murdered in Cuernavaca earlier this year, Sicilia has led caravans of protestors across Mexico to demand truth and justice and an end to the violence.
"Who is being held accountable?" he asked, complaining of a culture of impunity, and not just in Mexico. "Where is the money being laundered, and not just the drug money, but the money from other crimes? Money is the blood of the poor. We have 50,000 dead and 10,000 disappeared. The word to describe this would be 'demonic.' We are all responsible for these crimes against humanity because they are done by our governments," he said.
"If we were to put a human face on the suffering, it would be something we could not bear," Sicilia continued. "This is the image of our country: A six-year-old orphaned boy waiting for us on the road, holding a photo of his father, who had been killed and returned in a blanket. The face of that orphan is the face of our country. In a century when we talk of human rights, that is the tragedy."
The Mexico session wasn't the only place Sicilia made his voice heard. He also appeared before the crowd at a boisterous anti-drug war demonstration in MacArthur Park Thursday night and at the final plenary session of the conference. Then it was back to Mexico and the quest for peace and justice.