In keeping with the regressive turn Dutch drug policy has taken under its conservative coalition government, the Dutch government said Tuesday it will ban khat, a plant used by people from the Horn of Africa and the Arabian peninsula for its mild stimulant properties.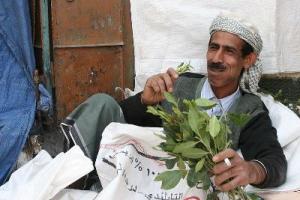 "Health Minister (Edith) Schippers will soon place khat on list II of the opium law. This will make possession and trade in khat illegal," said a joint statement from the Dutch interior affairs, security and justice and health ministries.
The ban is designed to serve a dual purpose for the Dutch. First, it is aimed at reducing domestic khat consumption, mainly among Ethiopian and Yemeni immigrants. Dutch officials said social problems, including high unemployment in the Somali community, prompted the ban, although it's not clear how banning khat will boost the jobs picture for immigrants.
They also cited longstanding pressures from other European countries to clamp down on the khat trade. The ban is thus also designed to stop the use of Amsterdam's Schipol Airport as a key hub for khat destined for other European countries where it is already illegal, including Denmark, Germany, and Sweden. (Khat is also banned in the US and Canada.)
The Dutch said that more than 800 tons of khat were imported into the Netherlands last year, 80% of which was exported to other European countries.
Swedish police welcomed the Dutch action, saying they suspected profits from the trade were going to finance militants like Al Shabaab in Somalia. Swedish police estimate that 200 tons of khat are smuggled into the country each year.
"Smuggling to Scandinavia is quite substantial... we catch smugglers on the Swedish border several times a week, though probably 9 in 10 transports get through," Stefan Kalman of the Swedish police drug squad told Reuters. "This ban means a huge change for us. I expect the numbers to go down now, as smuggling becomes more difficult," he added.
The Dutch khat ban is in line with the government's crackdown on the sale of marijuana and hashish. The number of cannabis coffee shops there is declining, and a ban on foreigners in coffee shops is set to begin going into effect this year.