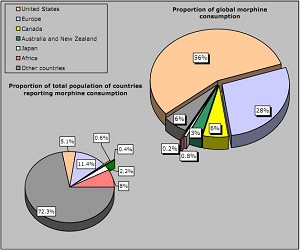 Marijuana decriminalization has become a hot topic in state legislatures, and legalization is rearing its head, too.
While the US wallows in a sea of pain pills, much of the rest of the world goes without, the International Narcotics Control Board reported Wednesday. Not to be too liberal, the INCB is also worried about the rise of designer drugs.
The biennial International Drug Policy Reform Conference will convene this fall in Los Angeles. Session proposals are accepted until March 18, and registration and scholarship applications for the conference will open soon.
Synthetic marijuana has been banned by the DEA in an emergency action. This time, they mean it.
The fake pot menace has been eliminated from Nebraska, or at least, driven underground.
A bill that would create medical marijuana dispensaries in Hawaii won a key Senate committee vote Thursday.
Utah is the latest state to hop on the fake pot ban bandwagon. The same law also bans mephedrone.
Michigan gives us two spectacularly egregious cases of corrupt policing, one of which included prosecutors and a judge -- and we throw in the obligatory greedy jail guards.
Copenhagen is set to become the next European city with a safe injection site -- except the police don't want anyone to actually inject drugs there. A confrontation looms.
A take-down of alleged crack dealers in a Lackawanna, New York, gas station parking lot has yielded the year's 11th drug war fatality.
A traffic stop as part of a drug investigation turned deadly in Fort Worth Monday night. Police blame the suspect, but locals want an investigation.
Events and quotes of note from this week's drug policy events of years past.
Permission to Reprint:
This issue of Drug War Chronicle is licensed under a modified
Creative Commons Attribution license
. Articles of a purely educational nature in Drug War Chronicle appear courtesy of DRCNet Foundation, unless otherwise noted.