[Editor's Note: This year, Drug War Chronicle is going to try to track every death directly attributable to drug law enforcement during the year. We can use your help. If you come across a news account of a killing related to drug law enforcement, please send us an email at [email protected].]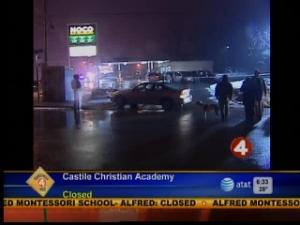 A man in Lackawanna, New York, has become
the 11th person killed in US drug law enforcement operations this year
. He was shot and killed during a confrontation with undercover officers attempting to arrest four alleged drug dealers in a gas station parking lot early Thursday evening.
According to police Friday
, 10 undercover officers, six from the Erie County Sheriff's Office and four from the Lackawanna Police, converged on the parking lot to make the arrests when one of the suspects drove his van into a police car, hitting two Lackawanna officers between the vehicles. One unidentified officer then opened fire on the suspect, killing him at the scene.
But
an earlier version of the story
, again relying on police sources, painted a slightly different picture. According to that first account, an officer shot and killed a suspect and "an officer was then crushed between the suspect's vehicle and a police vehicle, but the suspect wasn't driving."
In a later version of the story, police said four suspects pulled up in a mini-van to sell drugs, but before the deal was consummated, "the driver attempted to hit the undercover officers with the van. Fearing for their lives," police opened fire, killing Rashad Bradford, 29, who was sitting in the back seat.

Two injured officers were briefly hospitalized, but have since been released.

Police said crack cocaine was seized at the scene. Three other men were arrested on drug charges.