Nebraska banned synthetic marijuana February 24, as an emergency measure passed by the legislature and signed a day earlier by Gov. Dave Heineman (R) went into effect.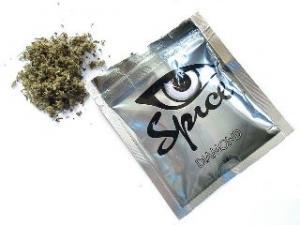 The bill,
LB 19
, adds a group of synthetic cannabinoid compounds to Schedule I of the state's Controlled Substances Act, and will punish their possession, production, and distribution like marijuana.
"It slams the door on manufacturers," said bill sponsor Sen. Beau McCoy (R), dealing a blow to the state's so far invisible synthetic pot manufacturing industry.
Synthetic cannabinoids mimic the effects of marijuana. The chemicals are typically sprayed on herbs and then packaged and marketed under names like Spice and K2. Such products began appearing in recent years and gained popularity as a legal alternative to pot, but their appearance also excited reflex prohibitionist instincts among police and politicians across the land.
Nebraska joins more than a dozen states that have moved against fake pot. The DEA had moved to ban the substances nationwide as of last Christmas Eve, but that effort had been blocked by organized retailers' groups until the DEA announced that the federal ban had gone into place Tuesday.