Utah has become the latest state to ban new synthetic drugs. Gov. Gary Herbert (R) signed into law Friday HB 23, which bans both synthetic cannabinoids and mephedrone, or "synthetic cocaine." The "emergency" measure went into effect immediately upon being signed by the governor.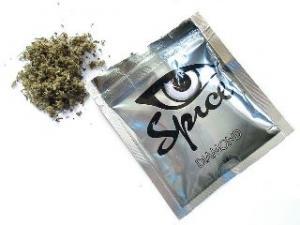 Synthetic cannabinoids are typically marketed as incense under brand names including Spice and K2. They are currently banned in more than a dozen states, with action pending in others. The DEA attempted to implement a nationwide ban as of Christmas Eve, but was blocked by legal moves on the part of retailers' groups until Tuesday, when a federal ban went into effect.
Mephedrone, a derivative of methcathinone, the stimulant substance found in the khat plant, is commonly sold as "bath salts," under names like Ivory Wave. Users report that it has cocaine-like or amphetamine-like effects. It has also been banned in Alabama, Florida, and Louisiana. The DEA has not yet moved against mephedrone.
The Utah law criminalizes 17 synthetic chemicals, all synthetic cannabinoid or methcathinone variants. They now go on the state's list of controlled substances, and their possession, sale, or manufacture becomes a criminal offense.
Gov. Herbert said after signing the bill that he didn't expect that to be the end of it. "Things change," he said. "What we face today is different than 10 years ago, and I expect my grandchildren will face different situations in the future."