by psmith, February 16, 2023, 12:10am, (Issue #1181)
Elections have consequences, as Virginia voters are finding out.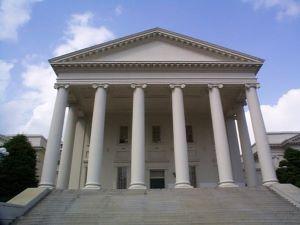 Two years ago, a Democratically-controlled Senate and House passed legislation legalizing marijuana, and the Democratic governor
signed it into law
. That law mandated that legal adult use sales commence by January 1, 2004, and left it to state lawmakers to figure out the regulatory details so that goal could be met.
But Republicans won the governorship and control of the House last November, and now they are refusing to move forward on getting the retail market going. Last week, the still Democratically-led Senate approved a regulation bill, Senate Bill 1133, on a 24-16 vote, but this week, the House General Laws Subcommittee killed it on a party line 5-3 vote.
The vote "was entirely expected, but is still disappointing, and it spotlights House Republicans' continued failure of leadership on cannabis policy," NORML Development Director and Virginia NORML Executive Director JM Pedini said in a statement.
Not only did the House kill the Senate bill, Pedini noted, also failed to advance multiple marijuana retail sales bills out of its own chamber. Republican backbones were stiffened by Republican Gov. Glenn Youngkin's opposition to the implementation bills. He said he was instead focused on regulating products containing intoxicating hemp-derived cannabinoids such as delta-8 THC.
Virginians now find themselves in the odd position of being able to legally possess up to an ounce of marijuana and grow up to four plants but not legally buy it—for now and the foreseeable future.
"Without access to a regulated marketplace, consumers won't know whether they're getting a safe, tested product or one contaminated with potentially dangerous adulterants,"Pedini added.
Sponsored by Sen. Adam Ebbin (D), the bill just killed in the House would have allowed sales to begin on January 1, 2024 and take place at existing medical marijuana dispensaries as well as new enterprises operated by people from "historically economically disadvantaged communities." It also included a provision for resentencing people currently serving time for marijuana convictions.
The bill foresaw a 21 percent excise tax on retail transactions, with localities being able to impose an additional three percent local tax. Tax revenues would have been earmarked for historically economically disadvantaged communities, pre-k education for at-risk youth, and addiction prevention services. An independent Cannabis Control Authority would have regulated the industry.
The bill also would have established regulations for hemp-derived cannabinoid products such as delta-8 THC, which Gov. Youngkin claims to be worried about. It would have established testing and labeling requirements for such products.
"This bill fixes a major public health, consumer safety and public safety issue—and it does what more than 60 percent of Virginia voters want us to do: Regulate these products, ensure they're safe for consumers and also generates hundreds of millions of dollars from revenue for the Commonwealth," Ebbin told his fellow senators ahead of their vote to approve it last week.
But Republicans in a House committee dashed that dream this week, just as earlier this month, they killed a meek and modest proposal to have the Cannabis Control Authority—which already exists and is funded—begin to draft regulations for legal sales. That bill, House Bill 1464, was also killed by Republicans in a subcommittee.
"All this bill does is says the [Cannabis Control Authority], that y'all have propped up and funded, should do its job of advising you guys of what a market could look like next year," said Greg Habeeb, a former legislator turned lobbyist who represents the Virginia Cannabis Association.
But even that was too much for legislative Republicans, who have made abundantly clear that they are not in the least interested in allowing legal retail marijuana sales to get going. It may take another election for any progress to occur.
back to top