El comandante jubilado de la policía de Florida y vocero de Law Enforcement Against Prohibition (LEAP), Jerry Cameron, logró poner el debate sobre las drogas rotundamente en el candelero con su aparición en Irlanda la semana pasada. El discurso de Cameron en la conferencia "Repensando la Guerra Contra las Drogas" en Dublín, auspiciada por un trío de grupos irlandeses que trabajan las cuestiones de la prisión, las políticas de drogas y la juventud provocó a numerosos editoriales y artículos de opinión periodísticos, llenó las ondas radiofónicas de charlas sobre la legalización y forzó el gobierno irlandés a responder.
Organizada por el Irish Penal Reform Trust, la organización caritativa que trata de las drogas, Merchant's Quay y la Union for Improved Services, Communication, and Education (UISCE), un grupo que combina deportes y aprendizaje de la lengua gaélica, la conferencia "Repensando la Guerra Contra las Drogas" reunió a más de mil políticos, funcionarios del gobierno, reformadores y activistas irlandeses el 28 de Agosto. Con Cameron como orador, la conferencia inspiró seguramente la reflexión irlandesa sobre las políticas nacionales de drogas.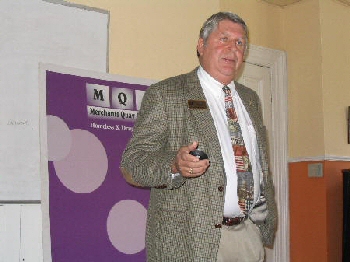 Era exactamente lo que el IPRT quería, dijo el director ejecutivo Rick Lines. "El IRPT no tiene ninguna política formal que apoye a la legalización y la despenalización", le dijo él a la
Crónica de la Guerra Contra las Drogas
. "Con todo, partimos de un análisis de que la penalización de las drogas es una fuerza motriz del crecimiento de las poblaciones penales en Irlanda y es una causa principal de los altos índices de infección de VIH y Hepatitis C en las prisiones. Por lo tanto, examinar las alternativas a la penalización de las drogas y las alternativas a la prisión para la gente que consume drogas debe ser una parte central del trabajo realizado por las organizaciones de reforma de las prisiones internacionalmente. A menudo me dicen en las conferencias de reducción de daños que las organizaciones de reforma de las prisiones en sus países ni siquiera discuten las leyes sobre las drogas. Tanto si esto es verdad o no, no estoy seguro, pero espero que no sea".
Para Lines, la conferencia y la atención que atrajo fueron un gran éxito. "El evento fue exitoso más allá de todas nuestras esperanzas", dijo. "La multitud fue mucho más grande que la anticipada – apenas en la sala – así como la cobertura de la prensa. Contamos 26 vehículos distintos de tele, radio y prensa impresa cubriendo el evento y podemos haber ignorado a algunos. Así, el evento fue un comienzo muy exitoso para remoldar el debate sobre esta cuestión, que era lo que realmente esperábamos lograr".
"Ésta fue una de las mejores conferencias en las que he participado", le dijo Cameron de la LEAP a la DRCNet. "La gente del Irish Penal Reform Trust hizo un trabajo maravilloso de organización y entre aquellos participantes había un parlamentario y un miembro del Parlamento Europeo, el ex ministro irlandés de drogas, varios miembros del sistema de libertad vigilada, un representante de la Garda [la policía irlandesa] – fue un entrecruce verdadero de interesados en estas cuestiones. Tengo que decir que la gente del gobierno irlandés era mucho más abierta que los políticos que encuentro en los EE.UU.".
La atención de los medios fue tremenda, dijo Cameron. "Aparecimos en todo periódico irlandés un día después de la conferencia. También hice harto trabajo con las emisoras irlandesas de radio y televisión", explicó. "Y todavía aparecí en un programa de radio en que una mujer que debatía conmigo se puso tan altercada que tuvimos oyente tras oyente llamando para rechazar sus posiciones y debatir a favor de la reforma fundamental".
De hecho, la respuesta de los medios fue intensa y, en su mayoría, favorable. El Irish Examiner cubrió la conferencia y los comentarios de Cameron al mismo día con un reportaje intitulado "US Police Chief's Warning Over Doomed Drug Policy" [La Advertencia del Comandante Estadounidense de la Policía Sobre las Políticas de Drogas Fracasadas], en tanto que el Irish Times publicó un artículo de reacción, "Government Considered Legalizing Heroin" [Gobierno Consideró Legalizar la Heroína] y el Examiner volvía al día siguiente con otro artículo de reacción, "Legalizing Cannabis 'Would Result in State Being Sued'" [Legalizar el Cannabis "Resultaría en Procesos Contra el Estado"]. Pero aun esos artículos de reacción que contaban con datos del gobierno las cuales explicaban por qué las drogas nunca podrían ser legalizadas mantuvieron la discusión de la prohibición de las drogas delante del público irlandés.
A fines de la semana pasada, el gobierno irlandés fue forzado a responder directamente. El hombre encargado del tratamiento químico irlandés, el Ministro de Estado en el Departamento de Comunidad, Noel Ahern, llamó a los reporteros para decirles que el gobierno iba a rechazar los pedidos de legalización de las drogas. "No vamos en esa dirección", dijo, en comentarios informados por los servicios irlandeses de noticias. "Y si hay pasos para el futuro, ellas tendrían que ser tratados mundialmente. Un país solo no puede actuar. Holanda lo intentó hace pocos años y está retrocediendo, o bien porque se dio cuenta que estaba atrayendo al turismo de drogas", añadió Ahern, comprendiendo equivocadamente las actuales políticas de drogas holandesas.
"No habríamos esperado más nada de la respuesta del gobierno", dijo Lines del IRPT. "Pero, más una vez, nuestro objetivo principal era solamente el de plantear de verdad el debate y, en ese sentido, tuvimos un éxito impresionante. Parafraseando a uno de los oradores en el evento, si hubiéramos realizado un foro público hace 20 años que hablara sobre el trueque de jeringas, la gente habría pensado que eso sería una locura, pero ahora es una política bien establecida".
"La tempestad en los medios sigue aún", dijo Cameron el martes con una mezcla de sorpresa y placer. "Ha habido un par más de columnas en los últimos días, una que me citó extensamente. El abordaje que tomé tuvo buenos resultados. Les dije que no estaba allí para decirle a Irlanda cómo conducir sus negocios, sino para decirles que las políticas estadounidenses de drogas han sido un fracaso total y para pedirles que lucren con nuestros errores. Ellos tienen mucha gente talentosa que puede inventar soluciones irlandesas para problemas irlandeses. Lo que hemos hecho en los EE.UU. seguramente no ha funcionado", dijo.
Una carta abierta en el Irish Independent el sábado pasado intitulada "The War Isn't Working So Is It Now Time to Consider the Unthinkable and Legalize All Drugs?" [La Guerra No Está Funcionando, Entonces ¿Ya Es Hora de Pensar en lo Impensable y Legalizar las Drogas?] fue el típico comentario de la prensa irlandesa. "Actualmente, hay más criminalidad, enfermedad, muerte y adicción que nunca", escribió el columnista. "Él [Cameron] cree, y yo comparto su punto de vista, que ni siquiera un objetivo ni una meta de la 'guerra contra las drogas' ha sido cumplida y que la 'relegalización de las drogas' es 'la única manera de impedir que las drogas caigan en las manos de nuestros hijos, de hacer espacio para que los infractores violentos cumplan sus sentencias completas en nuestras prisiones y de devolver la imposición de la ley a su función legítima de proteger a nuestros ciudadanos'".
Un columnista en el Irish Examiner opinó similarmente un día antes en un artículo intitulado "We Are Losing the War on Drugs and Policy Should Be Stood On Its Head" [Estamos Perdiendo la Guerra Contra las Drogas y las Políticas Deberían Ser Puestas con los Pies en el Alto]. En ese artículo, el columnista Ryle Dwyer resumió el argumento de Cameron, añadió algunos argumentos suyos y concluyó de esta forma: "Usar tácticas intentadas y testadas que han fracasado tanto es una causa, no la respuesta, de nuestros problemas".
"El primer paso en cualquier esfuerzo para promover el cambio de políticas es popularizar su perspectiva y transformarla de 'locura' en parte legítima del discurso público", dijo Lines del IPRT. "Un evento no logrará esto, pero es un comienzo. El reportaje siguió en la prensa días después del evento y creo que esto aguanta bien el trabajo continuo en esta cuestión, ya que quizá hayamos ayudado a abrir un lugar seguro para que otros planteen argumentos similares".
Conferencia tras conferencia, carta tras carta, programa tras programa, el mensaje antiprohibicionista se está difundiendo y con la ayuda de grupos como la LEAP y el IPRT, se está difundiendo en la corriente principal.
Haga clic aquí para ver el video de la LEAP o haga una donación de $15 o más a la DRCNet para pedir una copia del DVD.