by Bernd Debusmann Jr.

Mexican drug trafficking organizations make billions each year smuggling drugs into the United States, profiting enormously from the prohibitionist drug policies of the US government. Since Mexican president Felipe Calderon took office in December 2006 and called the armed forces into the fight against the so-called cartels, prohibition-related violence has killed around 40,000 people, including more than 15,000 last year. The increasing militarization of the drug war and the arrest or killing of dozens of high-profile drug traffickers have failed to stem the flow of drugs -- or the violence -- whatsoever. The Merida initiative, which provides $1.4 billion over three years for the US to assist the Mexican government with training, equipment and intelligence, has so far failed to make a difference. Here are a few of the latest developments in Mexico's drug war: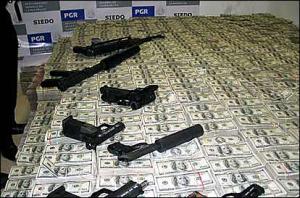 Tuesday, October 11
In Veracruz,
the young son of a Zeta boss who was killed in May was kidnapped
by armed men dressed in fatigues. A friend of his was also taken. His father, Rolando Veytia Bravo, "El Manitas," was allegedly the Zeta boss for Veracruz until being killed in a shootout with the military in May.
Wednesday, October 12
In Saltillo, Coahuila,
a high-ranking Zeta commander was captured.
Carlos Oliva Castillo, "La Rana," is alleged to be the third highest ranking member of the organization and is thought to have ordered the August 25 attack on a casino in Monterrey which left 52 people dead. His arrest sparked a series of gun battles throughout the city as cartel gunmen attempted to rescue him from the Mexican military. His bodyguard and girlfriend were also taken into custody.
In Ciudad Juarez,
at least 16 people were murdered.
Among the dead were three anti-extortion investigators with the state Attorney General's Office who were gunned down near a high school. Additionally, a municipal police officer was shot and killed while waiting for his family in a supermarket parking lot.
Thursday, October 13
In Sinaloa
, five gunmen were shot and killed
by municipal police and soldiers. Four were detained, including two who were wounded.
Friday, October 14
In Mexico City,
President Calderon acknowledged
that the state of Veracruz had previously been left in the hands of drug traffickers. Violence has increased dramatically in Veracruz this year. Former Veracruz Governor Fidel Herrera Beltran, who left office in December 2010, has repeatedly been accused of having allowed the Zetas to operate freely. He has rejected the accusations.
Saturday, October 15
In Matamoros,
a prison fight left 20 inmates
dead and 12 wounded. The fight apparently began between two individuals, but others soon joined in. It took authorities several hours to reassert control of the facility.
In Piedras Negras, Coahuila,
61 hostages were rescued
from a safe house where they were being held captive. Three armed men guarding them were taken into custody. Shoot-outs were reported in the area throughout the day as the city was cordoned off and swept by the military.
Sunday, October 16
In Vallecillos, Nuevo Leon,
nine suspected Zetas were captured
by members of the army. At least 21 gunmen were killed by troops during three days of operations. Authorities suspect that a Zeta training camp was located in the area. Vallecillos is roughly 100 miles from Monterrey.
Tuesday, October 18
In Veracruz
, authorities announced that nearly 1,000 police officers have been fired
in an effort to root out corrupt elements of the force. The 980 officers were fired after failing lie detector tests and other parts of the vetting process.
In Mexico State,
authorities announced the capture
of a founder of a criminal network that operates in the Acapulco area. Christian Arturo Hernandez Tarin, "El Cris," was arrested with three associates. His organization, the "Street Sweepers," was formerly an underling of Edgar Valdez Villareal, "la Barbie."
[Editor's Note: We can no longer tally this year's drug war deaths in Mexico with accuracy. The figure for this year's deaths is an estimate, no more, until there is some official toll reported.]
Total Body Count for 2007 (approx.): 4,300
Total Body Count for 2008 (approx.): 5,400
Total Body Count for 2009 (approx.): 9,600
Total Body Count for 2010 (official): 15,273
Total Body Count for 2011: (approx.): 8,000
TOTAL: > 42,000