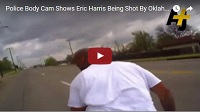 Drug law enforcement operations killed people at the rate of about one a week in the US in 2015. Here are seven of the most outrageous cases.
An Oklahoma medical marijuana initiative is dead, state legislatures are gearing up with more medical marijuana bills, New York gets kosher medical marijuana, and more.
A trio of jail guards get in trouble, and a California sheriff's deputy gets popped with 247 pound of pot on a Pennsylvania highway.
Things are pretty quiet on Christmas Eve, but MPP has a Top 10 list out, a Georgia state rep wants to bring the state's pot possession law out of the dark ages, and more.
America's fourth largest city decriminalizes on Friday, Detroit tightens up on police use of paid snitches, a federal judge in Denver is hearing a marijuana banking case, and more.
Medical marijuana petitioners are busy in North Dakota, the Indiana legislature will take up asset forfeiture next session, the Spanish Supreme Court rules against a leading cannabis social club, and more.
A third marijuana legalization campaign is getting underway in Michigan, a New Mexico state representative tries again with a legalization bill, Mexican marijuana farmers are feeling the pinch from competition north of the border, and more.
Thar's gold in that there merry-ju-wanna, California finance officials say; Oregon recreational tokers start paying taxes next week, kosher medical marijuana comes to New York, the US surgeon general is planning a review of drug policies, and more.
Some former NFL players would rather treat their aches and pains with medical marijuana than opiates, an effort to put medical marijuana on the ballot in Oklahoma comes up short, Bolivia's president vows to fight for coca decriminalization, and more.
Marijuana business license applications are now available online in Oregon, Illinois medical marijuana sales go past a million dollars, Jeb Bush rolls out a drug policy platform, and more.
Marijuana business access to banking services takes a hit from a federal judge, DC marijuana social clubs take a hit from the city council, Vermont legalization prospects get downplayed, pain patients are in the crosshairs, and more.
Permission to Reprint:
This issue of Drug War Chronicle is licensed under a modified
Creative Commons Attribution license
. Articles of a purely educational nature in Drug War Chronicle appear courtesy of DRCNet Foundation, unless otherwise noted.