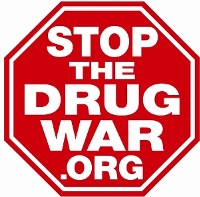 Michele Leonhart is being pushed out the door. Her disastrous performance last week in Congress over DEA sex scandals sealed her fate.
In the immediate wake of a contentious hearing yesterday, 22 members of a key congressional committee said they'd had enough of DEA head Michele Leonhart.
It's been a common practice among highway cops for the past decade, but detaining drivers after the traffic stop is completed violates the Constitution, the Supreme Court ruled today.
Busy, busy at the statehouse, there's news out of Washington, DC, too, a Wyoming medical marijuana initiative gears up, and more.
Cops, cocaine, and corruption, from Florida to Texas to California to Michigan. And some crooked jail guards, too.
A Northern California attorney is first out of the gate with a 2016 legalization initiative, a CBD cannabis oil bill becomes law in Georgia, and another awaits the governor's signature in Oklahoma, congressmen say they have "no confidence" in DEA head Leonhart, decrim is now in effect in Jamaica, and more.
Legalization efforts in Arizona and Massachusetts get rolling, there's more good polling, Idaho's governor vetoes a CBD cannabis oil bill over fears of "misuse and abuse," China is waging a major drug war, and more.
The president suggests he could get behind congressional medical marijuana efforts, a second California legalization initiative has been filed, Weedmaps puts up $2 million for legalization, two of the nation's largest cities are moving toward drug reform, and more.
The DEA head is on her way out, the Supreme Court rules on making motorists wait for drug dogs to arrive, Indiana's governor extends an emergency needle exchange, a new report on asset forfeiture abuses in California is out, and more.
Another federal bill to get DC out of state marijuana laws is filed, a Hawaii bill would inflict a 25% on medical marijuana purchases, a Pennsylvania medical marijuana bill moves, a Missouri hemp bill moves, and more.
Permission to Reprint:
This issue of Drug War Chronicle is licensed under a modified
Creative Commons Attribution license
. Articles of a purely educational nature in Drug War Chronicle appear courtesy of DRCNet Foundation, unless otherwise noted.