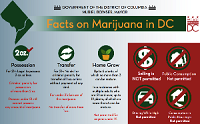 The Initiative 71 possession and cultivation legalization initiative goes into effect at midnight, despite some Republicans' attempts to stop it.
As of tomorrow, it will be legal for adults to possess up to an ounce and grow six plants (three mature) as phase one of Measure 2 comes into effect. It's going to take another year for marijuana businesses to be up and running, though.
Reps. Jared Polis (D-CO) and Earl Blumenauer (D-OR) have filed a pair of bills aimed at ending federal marijuana prohibition.
Whew! There are medical marijuana bills all over the place, a leading Democratic politician gets targeted for her anti-medical marijuana stance, and the Kettle Falls Five (now Four) trial gets underway.
The year's eighth drug war death took place in Birminghama, Alabama, during a pre-dawn SWAT drug raid. There are unanswered questions.
A Georgia head narc gets popped for drunk driving, a Detroit cop is in trouble for ripping off "Scarface" memorabilia during a drug raid, a San Francisco sergeant heads to prison for ripping off drug dealers, and a couple of California prison guards go down.
An anti-crime group has filed a pair of lawsuits challenging Colorado's legal marijuana law, a decrim bill is moving in Hawaii, 2016 initiative plans are getting underway in Michigan, DEA rules on pain pills are causing problems for vets and others, and more.
It's all marijuana news today: Federal legalization bills are filed, battles break out over legalization in Colorado, the Kettle Falls Five is now the Kettle Falls Four, Virginia CBD cannabis oil bills head to the governor's desk, and more.
Alaska's Measure 2 legalization begins to kick in tomorrow, the UFCW organizes medical marijuana workers in Minnesota, Chuck Schumer wants more drug war money, India bans the new synthetic drug mephedrone, and more.
It was legalization day today in Alaska, Ohio's ResponsibleOhio initiative goes back to the drawing board, a Georgia CBD medical marijuana bill moves, there are a couple of bad bills filed in California, and more.
Marijuana possession and cultivation will be legal in DC in just a few hours, Jamaica gives final approval to decriminalization, marijuana and medical marijuana bills are popping up all over, and more.
Permission to Reprint:
This issue of Drug War Chronicle is licensed under a modified
Creative Commons Attribution license
. Articles of a purely educational nature in Drug War Chronicle appear courtesy of DRCNet Foundation, unless otherwise noted.