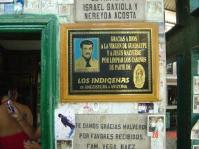 The International Narcotics Control Board (INCB) issued its annual report on the global drug situation today, and it is very "concerned" about marijuana legalization. But its chorus of critics is growing larger and louder.
The District of Columbia city council has voted to decriminalize small-time marijuana possession. The mayor is expected to sign the bill, but Congress must still approve, too.
CBD medical marijuana bills are moving in states that have traditionally been unreceptive to medical marijuana, New Mexico moves to increase supply, Maryland promulgates draft rules, and more.
A major scandal envelopes five San Francisco police officers, a former Illinois probation officer heads for prison in the cocaine death of an Illinois judge, a Kentucky drug task force commander cops to ripping off his employers, and more.
A thousand people march in support of "El Chapo" Guzman in his home state, Alaska makes it official that legalization is on the August ballot, another poll has a majority for marijuana legalization, medical marijuana bills move in a pair of states, there are a pair of moves to tighten up on pain pills, and more.
Another state, another poll, more support for marijuana reform, plus a Good Samaritan 911 bill moves in Maryland, a welfare drug testing bill moves in Indiana, Minnesota takes a chagrined second look at its welfare drug testing law, Norway's conservatives have a hash scandal, Dutch cops warn against legalizing grows, and more.
DC should decriminalize tomorrow, New Mexico looks to expand its medical marijuana program, harm reduction bills move in a couple of states, Mexican police repress a pro-El Chapo demonstration, and more.
The INCB releases its annual drug report and so does the US State Department, DC moves toward marijuana decriminalization and so does New Hampshire, the Georgia House approves a CBD medical marijuana bill and so does the Utah House, and more.
Washington state's marijuana legalization passes a milestone, the DEA gets an earful on pot in Congress, the fight over Oregon's statewide dispensary regulation bill continues, pain pill prescriptions decrease, Indian poppy farmers are plagued by strung-out antelope, and more.
Permission to Reprint:
This issue of Drug War Chronicle is licensed under a modified
Creative Commons Attribution license
. Articles of a purely educational nature in Drug War Chronicle appear courtesy of DRCNet Foundation, unless otherwise noted.