DC should decriminalize tomorrow, New Mexico looks to expand its medical marijuana program, harm reduction bills move in a couple of states, Mexican police repress a pro-El Chapo demonstration, and more. Let's get to it: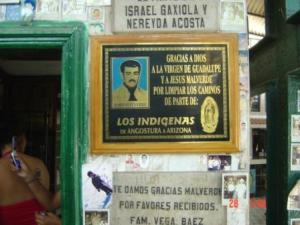 Marijuana Policy
DC Decriminalization Bill Expected to Get Final Vote Tomorrow. The District of Columbia city council is expected to give final approval tomorrow to a bill that would decriminalize the possession of up to an ounce of weed, with a $25 fine. It has the support of eight of 13 council members, so it should be a done deal, but stay tuned tomorrow.
Legalization Bill Introduced in Florida. State Sen. Dwight Bullard (D-Orlando) has introduced a legalization bill in the Sunshine State. Senate Bill 1562 was filed Friday. The proposal comes as Florida voters prepare to cast ballots in November on legalizing medical marijuana. Also, lawmakers are considering proposals to legalize a marijuana extract that can help some children who have a form of epilepsy and suffer from severe seizures.
Medical Marijuana
California Statewide Regulation Bill Has Support of Cops, Cities. For the first time, California law enforcement and local government associations are backing legislation to regulate the medical marijuana industry. The California Police Chiefs Association and the League of California cities are supporting Senate Bill 1262, filed by Sen. Lou Correa (D-Santa Ana), but the bill is opposed by friends of medical marijuana, who object to its provisions setting limits on doctors who recommend it.
New Jersey Annual Medical Marijuana Reports Out. The state Department of Health has released the 2013 Annual Report and the 2013 Biennial Report on the status of the state's medical marijuana program. The state has 1,585 active registered patients, 121 active registered caregivers, and six registered dispensaries. Both reports are at the link.
Massachusetts Caregiver Flouts Regs, Grows for More than One Patient. Longtime Bay State marijuana activist Bill Downing has gone public with his flouting of the state's medical marijuana regulations. He says he is providing medical marijuana to some 350 patients, but state regulations say he can be a caregiver for only one. Downing says it's the regulations that are in conflict with the state's medical marijuana law, not him. "The regulation violates the statute. The statute allows for caregiving. The regulation does not," he said. And the state Health Department knows what he is up to, he added.
New Mexico to Address Medical Marijuana Shortage, Adds New Conditions. Acknowledging that a shortage of medical marijuana exists in the state, the Department of Health Friday proposed increasing the number of plants and seedlings that licensed producers can grow and opening the application process to allow more producers to apply for licenses. There are only 23 licensed producers in the state, and demand is rising. Under the proposals announced Friday, producers would be able to boost their crop from a total of 150 plants and seedlings to as many as 150 mature plants and 300 seedlings. The state would also be looking to add another 12 producers to the list. The number of patients in the state jumped to more than 10,000 last year, an increase of 1,200 over the previous year. The department also announced it was adding Parkinson's and Huntington's diseases to the list of qualifying conditions to get into the program.
Solid Majority Favors Medical Marijuana in Iowa Poll. Nearly six out of 10 Iowans (59%) support legalizing medical marijuana, according to the latest Iowa Poll. But only 28% support legalization. Medical marijuana bills are introduced in the legislature every year, but have yet to go anywhere.
Harm Reduction
Overdose Reversal Drug Bill Moving in Ohio. A bill that would expand access to the opiate overdose reversal drug naloxone (Narcan) remains alive after the House voted to concur in changes made to it in the Senate. Substitute House Bill 170, sponsored by Rep. Terry Boose (R-Norwalk) has an emergency clause and will go into effect immediately upon signature by Gov. John Kasich (R).
Good Samaritan 911 Bill Moving in Georgia. A bill that would provide limited immunity from prosecution on drug charges for people who seek emergency treatment for drug overdose victims has passed the House. House Bill 965, also known as the Georgia 911 Medical Amnesty Law, now awaits action in the Senate.
Asset Forfeiture
Asset Forfeiture Reporting Bill Gets Hearing in Maryland. A bill that would require police to report the type of property seized, the crime with which it is supposedly linked, and the disposition of any related criminal cases has been heard in the Maryland Senate. Senate Bill 468, sponsored by Sen. Christopher Shank (R-Washington County), got a hearing last week in the Senate Judicial Proceedings Committee, but no vote was taken.
International
Mexican Police Arrest 40 in Pro-El Chapo Guzman Demonstration in Culiacan. Police in Culiacan, Sinaloa, arrested about 40 people Sunday who were planning to demonstrate in support of captured Sinaloa Cartel leader Joaquin "El Chapo" Guzman. About 150 supporters had gathered at the shrine to Jesus Malverde, informal patron saint of drug traffickers, in Culiacan, and about 40 were arrested when they refused to disperse. Some shouted "Long live Chapo." More than a thousand people marched for Guzman in Culiacan last week, and police wanted to prevent a repeat of signs of public support.
Drug Reformers Head to New Zealand for Conference on Regulating Legal Highs. Drug reformers from around the globe are heading to Auckland later this month to discuss the Psychoactive Substances Act and advocate further drug reform. The Pathway to Reform conference will take place on March 20.
Conservative Norwegian MP Charged in Hash Scandal Case. Erik Skutle, the Conservative Party member of parliament who took Prime Minister Erna Solberg's seat when she took the leadership position, has been charged with hashish use in a case that has embarrassed his "zero tolerance" political party. He was charged Thursday, a day after he publicly proposed decriminalizing cannabis possession as the scandal emerged. But it looks like he will retain his seat in parliament.