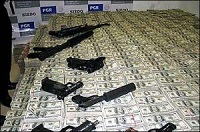 California's Prop 36 requires treatment not jail for first- and second-time drug possessors, but the money for treatment has dried up. That's okay if you didn't really need treatment, not so good if you could have benefited from it.
The Thai government has officially embraced harm reduction, but the Interior Ministry doesn't seem to have gotten the memo. Mass roundups of suspected drug users are once again underway.
The US Surgeon General has given the thumbs up to needle exchanges. That should open up some grant opportunities.
Because the update was late last week, it's two weeks worth of Mexican mayhem this week. And yet another grim landmark as the death toll passes 36,000.
A California dope squad leader goes bad, a Rhode Island narc goes to prison, and, of course, there are a couple of jail guards in trouble.
A US Deputy Marshal and an alleged crack dealer became the eighth and ninth people to die in US domestic drug law enforcement operations so far this year.
The drug war is killing Americans at a rate of more than one a week. The year's 10th killing happened Tuesday in Massachusetts.
As the Montana Senate prepares to take up a medical marijuana repeal bill, a new poll suggests that public support for repeal is minimal.
Washington state's largest daily newspaper and Seattle's city attorney have both come out in support of marijuana legalization.
Chaikh El-Khayari advocated for the legalization of marijuana production for hemp and medical marijuana, but it was his accusations of high-level links to the hash trade that got him thrown in jail.
Canada is moving to ban the powerful but short-acting hallucinogen salvia divinorum. Psychonauts and anti-prohibitionists have 30 days to try to block the ban.
A call to free the weed comes from an unexpected quarter: Zimbabwe.
Events and quotes of note from this week's drug policy events of years past.
Permission to Reprint:
This issue of Drug War Chronicle is licensed under a modified
Creative Commons Attribution license
. Articles of a purely educational nature in Drug War Chronicle appear courtesy of DRCNet Foundation, unless otherwise noted.