A member of parliament (MP) from Zimbabwe's ruling ZANU-PF (Zimbabwean African National Union -- Patriotic Front) has called for the legalization of marijuana cultivation for medicinal reasons and/or for export. That call was rejected by the country's agriculture minister.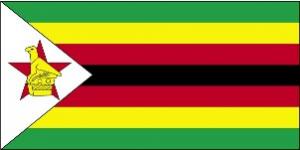 Uzumba MP Simbaneuta Mudarika suggested that marijuana be grown legally
in "remote areas" as medicine and to export to countries where it is legal. According to New Zimbabwe News, the notion prompted prolonged laughter and uproar in the chamber.
"I would like to know from the Minister the national policy with regards to creating export processing zones (EPZ) in remote areas," said Mudarikwa. "The reason for creating the EPZs in those remote areas is so that we can grow marijuana. Other countries like California and Norway have legalized it," he added.
[Editor's Note: Mudarikwa is a bit confused here. California is a state, not a country, and Norway has not legalized it. Perhaps he was thinking of the Netherlands.]
Agriculture Minister Joseph Made was having none of it. "That crop is not authorized in this country, and from a policy point of view, this crop is prohibited," he responded.
ZANU-PF is the party headed by Zimbabwe's long-time authoritarian ruler, Robert Mugabe. Since February 2009, ZANU-PF has entered into a tense coalition government with Morgan Tsvangarai and the Movement for Democratic Change. Mugabe remains as president, a post he has held since 1987, while Tsvangarai serves as prime minister.