A scarcity of heroin in England is leading to a growing number of drug overdoses and poisonings as users ingest dope cut with other substances by dealers trying to stretch supplies, The Guardian reported this week. Scene watchers there are calling it the worst drought in years.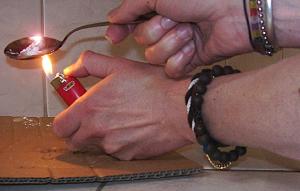 The drought is being blamed not on seizures by law enforcement agencies, but on a fungus that has blighted the Afghan opium poppy crop, reducing the size of this year's poppy crop by half. Afghanistan accounts for more than 90% of the world's opium production and likely 100% of the British heroin supply.
"There is a very significant heroin shortage across the UK at the moment," said Gary Cross, head of drug policy for the non-profit group Release. "It has been going on for some time now, but the last two months have seen stockpiles exhausted."
"I've never known anything like it in 30 years," wrote one long-time heroin user on an on-line forum discussing the shortage.
As dealers and users scramble to grapple with the shortage, users are turning up at hospitals after ingesting adulterated heroin or, in some cases, fake heroin consisting of a powerful sedative, caffeine, and paracetamol, a bulking agent. Some have passed out after smoking or ingesting, while others have reported vomiting, amnesia, and flu-like symptoms.
"This 'heroin drought' appears to be serious and geographically widespread," said Neil Hunt, director of research at KCA, a nationwide community drug treatment service. "Street heroin is in a complete and utter muddle at the moment, and users are collapsing unexpectedly. We need to standardize information about what's out there.
"If people use this intravenously, perhaps on top of alcohol and methadone [the prescribed substitute drug for heroin], it is extremely risky," said Dr. John Ramsey, who runs a drug database at St. George's Medical School in London. "We have had many reports of people overdosing. It's really important that accident and emergency departments understand that they may not be dealing with a 'normal' heroin overdose when people are brought in," he said.
Harm reduction drug agencies are aware of the problem and working to address it. Several of them held an urgent meeting last week to discuss setting up an online warning system to give users notice about contaminated or adulterated drugs.