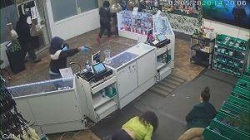 The good, the bad, and the ugly in US domestic drug policy this year.
For the first time, Congress has passed and the president has signed into law a stand-alone marijuana reform bill.
A groundbreaking study from StoptheDrugWar.org shows how attractive pot shop cash is to robbers.
In a reverse Robin Hood Act, Texas civil asset forfeitures take from the poor and give to the state.
A marijuana research bill becomes law, the SAFE Banking Act doesn't, and more.
A small-town Pennsylvania police chief had a bad habit, an Indiana cop gets caught stealing dope from DEA Drug Take Back campaign, and more.
The US Pardon Attorney says federal marijuana pardon certificates are coming soon, an Irish parliament committee calls for drug decriminalization and regulation, and more.
Some Texas town officials are trying to run roughshod over the will of the voters on marijuana enforcement, sponsors of the SAFE Banking Act are not giving up hope yet, and more.
Kansas City, Missouri, dismisses open marijuana cases; Colombia Congress advances marijuana legalization bill, more...
The marijuana industry will remain without access to many services after Congress failed to act this year, the GAO looks at how the drug czar's office is performing, and more.
Grenada is moving forward with multiple reforms, two new state polls show strong support for marijuana legalization in Indiana and Texas, and more.
New York legal recreational marijuana sales are set to begin next week, Maryland's incoming Democratic governor says expunging past pot convicitons will be a priority, and more.
Permission to Reprint:
This issue of Drug War Chronicle is licensed under a modified
Creative Commons Attribution license
. Articles of a purely educational nature in Drug War Chronicle appear courtesy of DRCNet Foundation, unless otherwise noted.