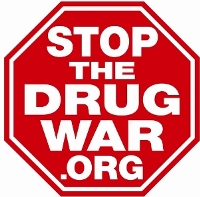 The Global Commission on Drug Policy has released a new report on how to most effectively target organized crime, and that includes moving toward legal, regulated drug markets.
Just a couple of miscreant men in blue this week, and they were both apparently slinging weed.
The former Honduran National Police chief just got indicted on drug charges in New York City, Dr. Bronner's Magic Soaps just bestowed a huge gift on the Oregon psilocybin initiative campaign, and more.
No electronic signature-gathering for the Montana marijuana legalization initiatives, a Canadian psychedelic decriminalization petition has enough signatures to send it to the House of Commons, Mexico's Jalisco New Generation Cartel is handing out crisis supplies in Puerta Vallarta, and more.
President Trump has authorized the Defense Department to call up military reserves as he ramps up a campaign against the cartels, a Nebraska medical marijuana initiative plans to continue signature-gathering, the legal pot industry is still hiring, and more.
A psilocybin mushroom decriminalization bill has been filed, Joe Biden again calls for marijuana decriminalization, and more.
A Republican pollster in Pennsylvania calls on GOP legislators to consider supporting marijuana legalization, new New York City drug testing rules go into effect next week, a Minnesota legalization bill is introduced, and more.
The coronavirus pandemic is wreaking havoc with global drug markets, the Sinaloa Cartel has imposed a coronavirus curfew on a city of nearly a million people, San Francisco is taking a harm reduction approach to quarantined drug users, and more.
A new study reports that driving while black is still a thing even in legal marijuana states, Joe Biden touts some coercive, but non-carceral approaches to drug offenders, and more.
Advocacy groups are pushing for marijuana businesses to be included in the next coronavirus relief bill, a pair of Oregon drug reform initiatives are teaming up for signature-gathering, and more.
Permission to Reprint:
This issue of Drug War Chronicle is licensed under a modified
Creative Commons Attribution license
. Articles of a purely educational nature in Drug War Chronicle appear courtesy of DRCNet Foundation, unless otherwise noted.