Advocacy groups are pushing for marijuana businesses to be included in the next coronavirus relief bill, a pair of Oregon drug reform initiatives are teaming up for signature-gathering, and more.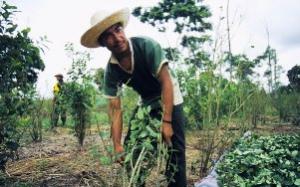 Marijuana Policy
Marijuana Groups Ask Congress to Include Banking Access in Next Coronavirus Bill. A coalition of marijuana advocacy groups sent a letter last Friday to the House leadership asking them to include language allowing the marijuana industry to gain access to banking services as part of pending coronavirus relief legislation. The groups argue that while lack of banking access has been a serious problem for the industry, it is now made worse because such businesses can only accept cash, which hampers recommended social distancing practices. "As recent reports show that viruses can live on cash for up to 17 days, the public safety concerns of this cash-only system compound,"the letter says. "The lack of access to financial institutions places industry workers, government employees, and the public at-large at risk as banknotes circulate from consumers and patients to businesses to government."
Drug Policy
Oregon Drug Decriminalization and Therapeutic Psilocybin Initiative Campaigns Team Up for Signature-Gathering. Activists behind the IP 34 therapeutic psilocybin initiative and the IP 44 drug decriminalization initiative campaigns are joining forces to collect enough signatures for each to qualify for the November ballot. Both campaigns sent out email blasts over the weekend encouraging their supporters to sign petitions for the other measure.
International
Albania Close to Legalizing Medical Marijuana. Albanian Prime Minister Edi Rama announced Monday that the government is preparing a draft law that would legalize the cultivation of marijuana for medicinal purposes. He said the government had been working for the past year with foreign and local advisors and that the draft bill would soon be made public.
Bolivia Escalates Anti-Drug Campaign in the Chapare, Escalating Tensions. The rightist interim government has stepped up operations against drug trafficking in the Chapare, but its focus on coca-producing communities around Cochabamba is creating intensifying tensions with law enforcement. Rural mobile police officers have been ambushed by traffickers attempting to protect their cocaine labs, and residents in nearby towns broke quarantine rules to find police officers and evict them from the area. Meanwhile, authorities have halted coca eradication efforts, although probably less because of the coronavirus than because Cochabamba coca growers are well organized and close to the deposed former president, Evo Morales, and his Movement Toward Socialism (MAS) Party, which is expected to win forthcoming presidential elections. Sending armed state agents into the countryside to destroy farmers' crops poses political risks for the interim government.
Colombia Steps Up Coca Eradication During Lockdown. Despite ordering a full lockdown of the country, the Colombian government is doubling down on the manual eradication of coca plants in remote parts of the country. Coca growers' representatives and human rights groups are demanding the government cease eradication during the lockdown for health reasons.